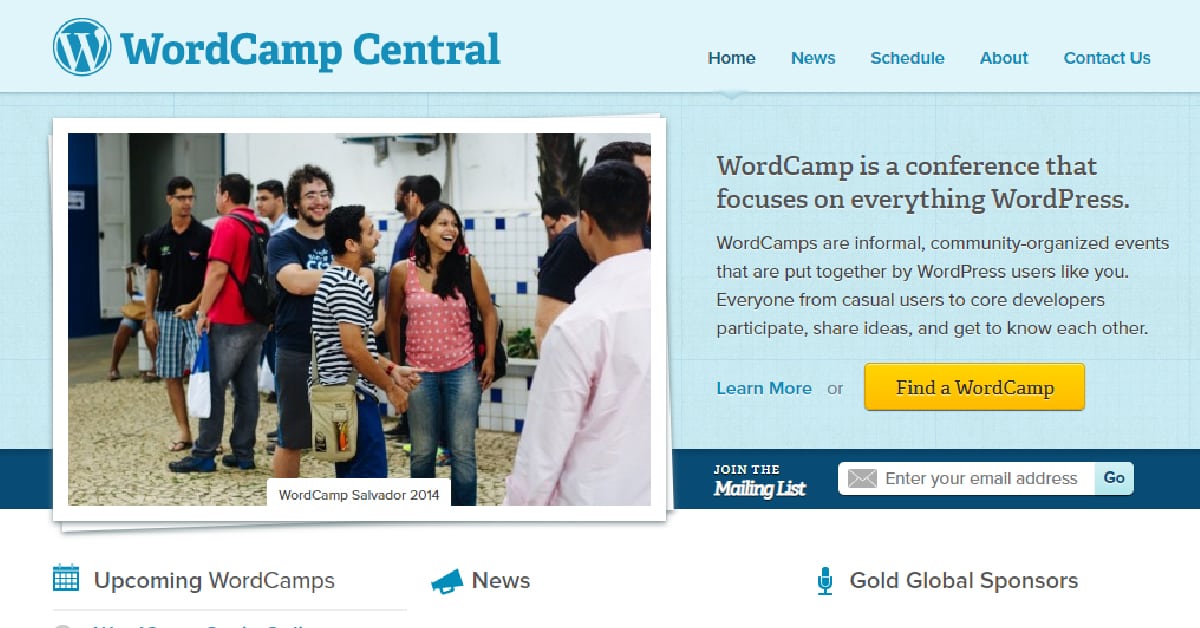 WordCamp is a conference that occurs across the globe to discuss WordPress issues in relation to blogging, social media, business, and much more. The first WordCamp was held in San Francisco by Matt Mullenweg in the year 2006.
Since then, hundreds of WordCamps have been organized year after year. The name WordCamp itself suggests that it is a unique Camp on WordPress. These events are organized by a huge group of volunteers. Starting from the initial event planning to the amazing speakers that share their information, all of the people involved are just volunteers.
What, Exactly, is WordCamp?
WordCamp is one of the biggest communities when it comes to content management systems. As WordPress is used by approximately one-third of all websites on the Internet, it's a way that many developers get together to discuss updates, changes, ideas, and network together.
Participating in WordCamp
WordCamp is not limited by specific credentials, which means anybody who is interested or has experience in handling WordPress can attend the WordCamp. People including WordPress users, developers, designers, and many other enthusiasts attend the event regardless of their level of experience and knowledge.
These WordCamps are cost-effective and are easily affordable with minimum ticket costs. This is largely thanks to the sponsors of each event in combination with the volunteer efforts. Most of the participants at WordCamp come to share their experience and knowledge with fellow users and developers.
A WordCamp also acts as a meeting point for developers to build connections. You can also come across many other new collaborators, employees/employers, and co-conspirators who will become the reason for new relationships and new projects for the year. There is even a job board to help provide opportunities to developers looking for work.
If you have an interest in participating at a WordCamp near you, make sure to check its official website for more information.
Past and Upcoming WordCamps
You can find all of the upcoming WordCamps including both scheduled and unscheduled ones at https://central.wordcamp.org/schedule/. Each WordCamp has a unique website that lists all of the information like dates, locations, speakers, volunteers, sponsors, and more. If you have a question about WordCamp, the answer is on that website.
If you are interested in viewing older WordCamps for a specific reason, you can do so at this location: https://central.wordcamp.org/schedule/past-wordcamps/. This gives you the opportunity to contact speakers from past events or potentially find a piece of contact information you lost.
It is also worth noting that the promotional websites remain intact for quite some time. So make sure to use them.
WordCamp at WordPress.tv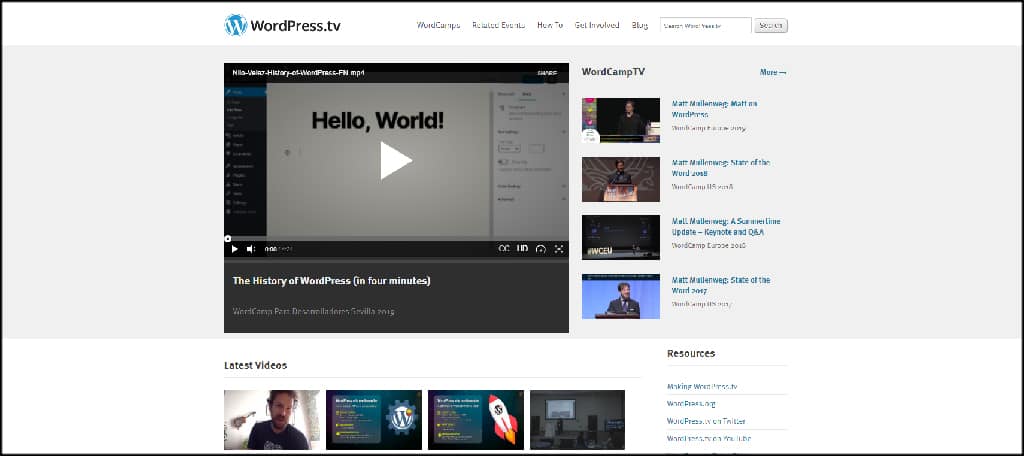 WordPress.tv presents the WordCamp footage under the category "WordCamp" at https://wordpress.tv/. WordCamp TV has all the presentations, highlights, and behind-the-scenes of WordCamp happenings at locations from all around the world. You can browse through the huge gallery of videos based on categories.
The website still has presentations from the last decade of WordCamps (2010 to 2020). Each year has a separate section for almost every single WordCamp, which makes finding a particular one quite easy.
However, be warned that some of the older presentations are, understandably, out of date. Thus, if you are looking for the latest information, stick to the most recent videos. This provides everyone with a great opportunity to gain more knowledge about WordPress without even having to attend. And the best part is that it is completely free.
On top of older WordCamp videos, you can find plenty of other helpful WordPress videos on the site as well, so make sure to check them out.
All of the Proceeds Support the Organization
In case you were curious about where all the money from the tickets, food/drinks, t-shirts, and more go towards, it's the WordCamp itself. All the money collected and funds raised in the name of the tickets for WordCamp are purely spent on organizing and carrying out the event.
Any additional funds that remain are generally spent to fund an on-going WordPress meet-up, to sponsor a local developer to contribute the work to wordpress.org, to donate the surplus to the WordPress Foundation, or is saved for the benefit of an upcoming event.
Alternatively, the money is also used to distribute commemorative t-shirts or to provide food and beverages to the volunteers. The details about the perks and benefits with each ticket purchase will be available on the respective WordCamp website.
Most WordCamps have a party after the conference at a nearby location. So it's all about fun to meet like-minded people with similar interests and to have fun in a cost-effective manner. Did you know that GreenGeeks is an active sponsor of WordCamp's all around the globe?
Get Updates on Your Favorite Social Media Site
If you have missed a WordCamp or are planning to attend the next one, you can get all the updates sent straight to your favorite social media website. By far the best place to get updates on WordCamp is on their official Twitter account.
However, you can also follow them on other platforms like Facebook.
This will ensure that you won't miss any emergency news, which is especially important for WordCamps located in areas afflicted with natural disasters and more recently COVID-19. The events will always be canceled if it is threatening the safety of the attendees and volunteers alike.
It is also possible for the speakers to change before the event, so pay attention to plan your time wisely.
Advertise Your Attendance
WordCamps are excellent spots to meet others. A great tactic that can help you and the WordCamp out is to advertise that you will be attending a specific event. This will give you and your visitors an opportunity to meet in person.
And it doesn't just help you meet visitors either. Other business opportunities may arise as a result of attending. This can help you form collaborations with other content creators, which is great for your website's growth.
On top of this, it helps raise the awareness of the event itself. These events are quite popular and can sell out quickly. However, many beginners are unaware of the camp's existence. Exposing yourself to a WordCamp is always a good thing.
Organize An Event In Your Region
WordCamps happen all over the world, and if you feel that none are coming to your region, you can take the initiative by organizing your very own.
Becoming a WordCamp organizer is actually not that difficult. And if you have experience running any other type of large scale event, you will quickly realize it is not that different. If you are interested, begin by reading the basic requirements or guidelines listed on the official website and filling in your application form at https://plan.wordcamp.org/become-an-organizer/organizer-application/.
Hurry up and show your love for WordPress at your nearest event.
What Safety Measures Are in Place?
It's no secret that Covid-19 is preventing large-scale meet-ups and this has affected WordCamps. But like most events, WordCamps have become online events. Thus, there are no safety concerns when attending since it's from your computer.
How Long Is a WordCamp?
WordCamps offer a variety of talks and events throughout the day. Generally speaking, you can expect events from 9 am-5 pm. Some WordCamps will happen in one day, while others will take place throughout the weekend with new events each day.
Thus, each WordCamp varies in length, but you can expect it to take all day if you attend.
Make Sure to Attend One
In short, WordCamp is just everything about WordPress! If you love WordPress and want to learn more about it and meet other enthusiasts, this is the place to do so. It is also a great place to discover new business opportunities and meet developers that can help you grow.
Regardless if you want to participate as a volunteer, speaker, organizer, or attendee, it's a lot of fun. GreenGeeks regularly attends these events, so if you do drop by, make sure to come to our table for some sweet GreenGeeks swag.
We really do enjoy getting the opportunity to interact with everyone in attendance, so make sure to say hi.
What kind of experiences have you had at a WordCamp? Were you an attendee or a volunteer at the event? Did you see GreenGeeks at your event?