So, you have a large WooCommerce store on your WordPress website. Now it is time to expand your goods into different marketplaces to grow your overall reach. One of the best ways to do this is to add WooCommerce to Amazon Marketplace.
Face it, there is no simple way to go about getting your products on multiple marketplaces. That is, until now. In year's past, you would have to set up everything separately on each venue.
This leads to a lot of time, effort, and money lost. Now, there is a much faster and easier way to accomplish this. You now have the ability to use a WooCommerce integration plugin. Using a feed setup, you can now easily feed your WooCommerce store to other marketplaces.
In this tutorial, I will show you how to use an Amazon WooCommerce plugin to send your products to Amazon Marketplace quickly and easily. Let's dig right in.
Why Add WooCommerce Products to Amazon Marketplace
There are several big marketplaces out there where you can sell your online goods. That being said, Amazon Marketplace is the biggest, and you have the potential to reach the most people.
If you have a WooCommerce store on your WordPress website, then you will want to think about WooCommerce and Amazon integration. By adding the products from your online store to Amazon, you are going to give yourself a bigger audience and a higher probability of getting noticed.
Expanding to this marketplace, along with others in the future, is a great way to grow your audience, following, business, and sales. This is not as difficult as you think. As a matter of fact, all you have to do is download the right Amazon and WooCommerce integration plugin and set it up. Before you know it, you will have all your products feeding out to the Amazon Marketplace.
Let's take a look at how to integrate WooCommerce and Amazon together with the use of a plugin.
Note: This tutorial assumes you have a WooCommerce store setup, as well as an Amazon Seller account.
WooCommerce Products to Amazon Marketplaces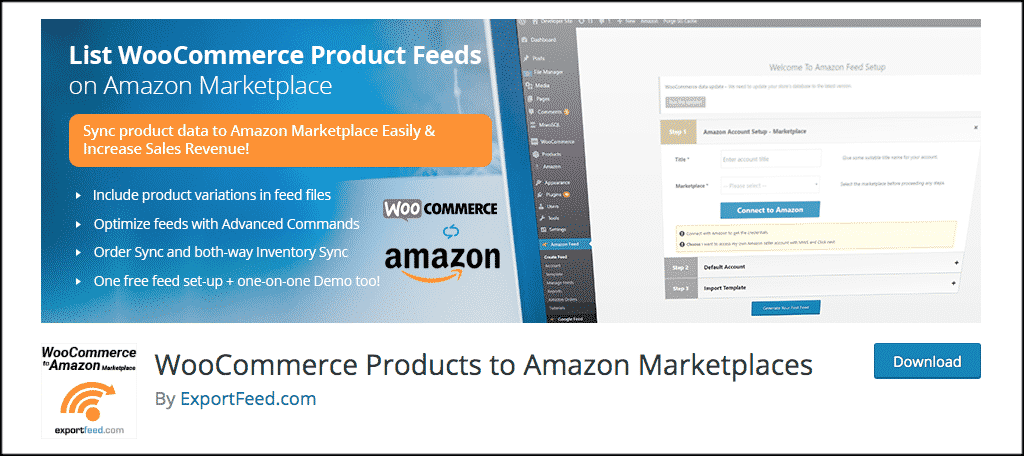 The WooCommerce Product to Amazon plugin is a very powerful tool that will allow you to use feeds to send your products and details from your WooCommerce store to Amazon Marketplace. It basically allows you to list and sell your goods on Amazon in a managed way from your website.
Once the plugin has been installed and activated, you will be able to easily create product feeds of your WooCommerce products, or individual products, and then directly upload them to your Amazon seller account.
This plugin literally covers everything you need to properly integrate WooCommerce to Amazon. While there is a pro version of the plugin, the free version works fine. The main thing with the free version is that you are limited to 100 products in a feed. The pro version will also allow you to upload products without SKU limitations.
That being said, the free version should be fine for you. It also supports several Amazon Marketplaces from around the world. WooCommerce Product to Amazon supports the following marketplaces:
United States
Canada
Mexico
France
Germany
Italy
Spain
United Kingdom
Australia
India
So basically, once you are up and running, your WooCommerce to Amazon integration will make your products easily available around the world. Let's take a look at how to install, activate, and set up the plugin.
Install and Activate the Plugin
In order to easily integrate WooCommerce to Amazon, you first need to install and activate the plugin from above. You can do this by going to the Plugins page of your WordPress admin dashboard and searching for it.
Once the plugin has been installed and activated, you will see a tab called "Amazon Feed." This will be located on the left menu of the dashboard.
If you hover over it you will notice there are several areas of the plugin to explore. Let's do that together. However, before that, let's take a quick look at the plugin settings.
Click on Amazon Feed > Settings. This will take you to the configuration for the plugin.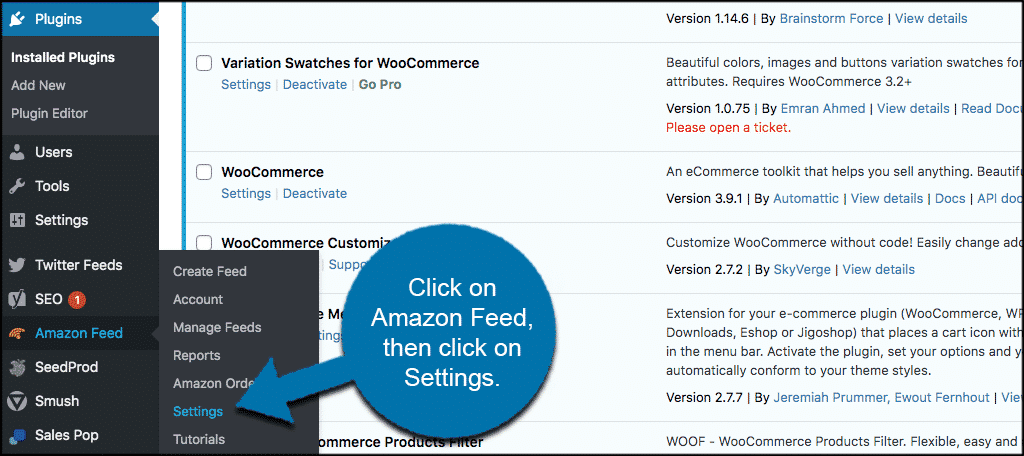 From here we can adjust some settings.
WooCommerce to Amazon Settings
The settings section basically offers you several dropdown menu items to adjust the way the plugin operates when it comes to mapping orders and a couple of other things.
You see on the left side that Amazon order status is displayed. On the right are dropdown menus for you to choose what happens to each part of your order in WooCommerce when a product is bought off Amazon. Set these up how you wish.
After that, you can set the Woo VAT percent that you want.
Finally, go ahead and set your Amazon Cron Intervals. This is how often the feed refreshes, looks for updates and submits data.
That's it for settings. Your feeds will now act based on what you just set them up. Let's look at how to set up a feed so that you can integrate WooCommerce to Amazon and display your products.
Setup a Feed
Click on "Amazon Feed > Create Feed. This will take you to the page for feed creation. A couple of things you need to remember here:
You have to create feeds for different countries if you want your products displayed in those locales.
You already have an Amazon Seller account. If not, you need to go set one up.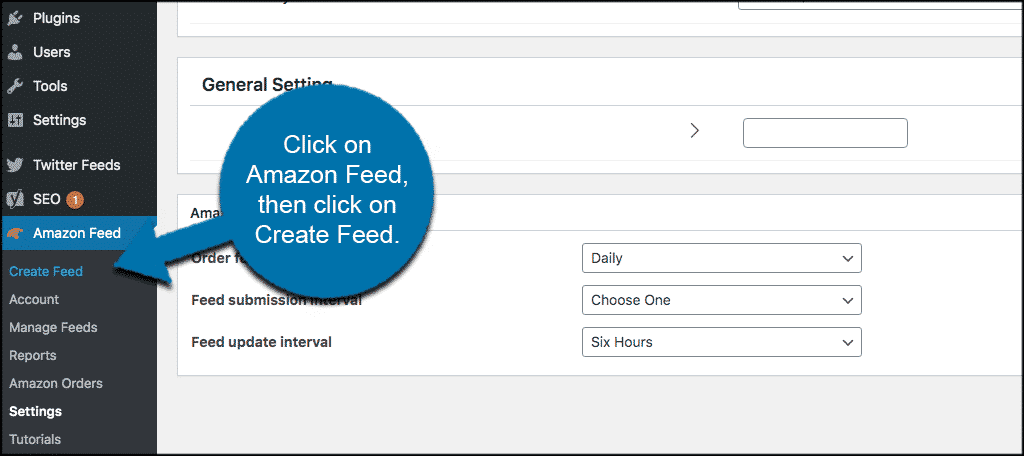 Now that you understand those two components, let's create a feed real quick. On the create a feed page, click on the "Select Marketplace" dropdown box and select the Amazon Merchant you want this feed to cover.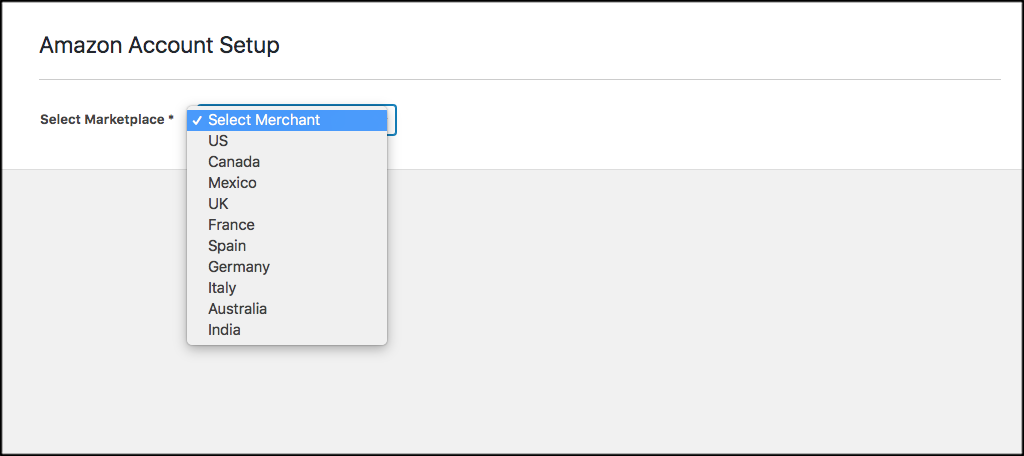 A dropdown will appear with all the rest of the fillable information and instructions. The box will look like this:
From here, the rest of it is covered within your Amazon Seller account. So use the info and the links provided to finish setting up your first feed.
If you need more help, the plugin provides a video tutorial showing you how to set up the rest of the feed from your Amazon Seller account. Just click on Amazon Feed > Tutorials. You will see this page:
Let's take a quick look at the rest of the plugin and what it offers.
WooCommerce Integration Plugin Tabs
Now that you have your settings in place and have started to create feeds, let's take a quick look at what the rest of the tabs on the WooCommerce to Amazon integration plugin offers. The tab links will all be listed underneath the main Amazon Feed tab.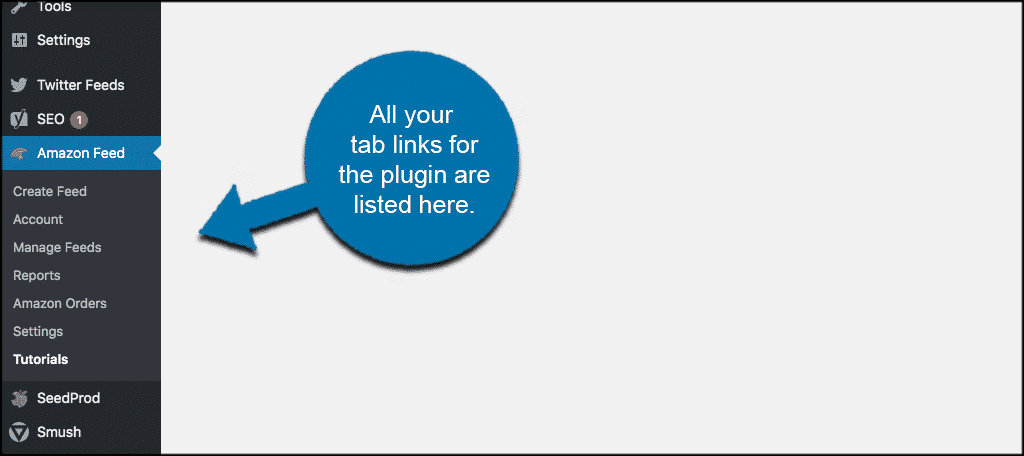 Account
The account tab will have a list of all your Amazon Marketplace accounts that you are using.
Manage Feeds
Manage all the feeds you have created from this area.
Reports
This is where all of your reports will file into and be listed over time.
Amazon Orders
All the orders that have come through Amazon Marketplace will filter in here for you to view and keep track of.
That's it! From here you should have a pretty firm grasp of the entire plugin and how it all works. Start sending your products to Amazon and watch your sales grow!
Final Thoughts
It is a very smart idea to integrate your WooCommerce store into Amazon. By doing so, you will be able to reach a broader audience and increase sales over time.
No longer do you have to go through the process of creating and then recreating all of your products. You can now use a fantastic WooCommerce to Amazon integration plugin that will do all the heavy lifting for you in a matter of a few minutes.
I hope this tutorial has shown you how easy it is to get your products to Amazon from your WooCommerce store.
Have you ever used this plugin to integrate the two together? Have you been recreating everything from scratch in order to sell on Amazon Marketplace?