Cryptocurrency has continued to grow in popularity over the last few years. What was once considered a "dot com like bubble" is now becoming a very popular way to get paid. If you have an online store, it may be a good idea to add a way to get paid using crypto. Confused about how to do this? MyCryptoCheckout is a plugin that can be used to accept cryptocurrency payments online.
Here is how to accomplish this.
What is Cryptocurrency?
You have probably heard quite a bit about cryptocurrencies. Despite everything you read, chances are you still have some confusion about what crypto is. Simply put, a cryptocurrency is a digital or virtual currency that is secured by cryptography. This makes it almost impossible to counterfeit or double-spend.
Most cryptocurrencies get built on decentralized networks.  These networks are based on what we call blockchain technology. This is where it gets a little more technical.
Blockchain is a distributed ledger enforced by a separate network of computers.
All of this works together to push privacy and limit fraud. Perhaps one of the biggest attractions people have toward cryptocurrencies is the fact that they are not issued by any central authority. Theoretically, this makes them immune to government interference or manipulation.
Should You Add a Cryptocurrency Payment Gateway?
With the mainstream attention that this is getting, it is a smart choice to add a cryptocurrency payment gateway in WordPress. Not only are transactions private and safe, but you open the door to multiple types of transactions from customers all over the world.
There is no hassle regarding payments from overseas or anything else. For example, say you chose to accept Ethereum in WooCommerce. You make the currency available, set in the encrypted wallet you want payments sent to, and you are all set.
A custom cryptocurrency payment in WooCommerce is made. Then the token goes directly to your wallet. The transaction is complete.
More and more of the biggest online stores are now accepting a number of popular cryptocurrencies. So, it could be a good idea for you to do it as well.
Luckily there is a fantastic plugin that can help you easily accomplish this. Let's take a look at the plugin in question and see what all it offers.
MyCryptoCheckout
MyCryptoCheckout is a cryptocurrency payment gateway that is built for both WooCommerce and Easy Digital Downloads. It gives you the ability to set up WooCommerce cryptocurrency payments and receive coins directly to the wallet of your choice.
Setup for the plugin is not complicated, as everything is built-in. This is a perfect way to accept a large variety of cryptocurrencies. The plugin gives you options to accept over 95 different coins, so when you set those in, the payment possibilities are almost endless.
MyCryptoCheckout comes with a ton of built-in functionality and features. Some of the highlights include:
0% transaction fees

Over 95 cryptocurrencies supported

No product or KYC restrictions

Zero 3rd party redirections

No iframes

Use any crypto wallet you choose

Detect unique payments using one wallet address

One-click payments

Donations widget

Tor support
And that is just a taste of what the MyCryptoCheckout plugin can do if integrated into your online store.
Note: The rest of this tutorial assumes you have either WooCommerce or Easy Digital Downloads already up and running on your website.
How about we go through and set up the plugin together?
Install and Activate the Plugin
In order to start accepting custom cryptocurrency payments in WooCommerce or Easy Digital Downloads, you first need to install and activate the plugin. You can do this by heading over to the Plugins page in your WordPress admin dashboard.
Simply search for the plugin by name using the search field and you can install and activate it directly from there.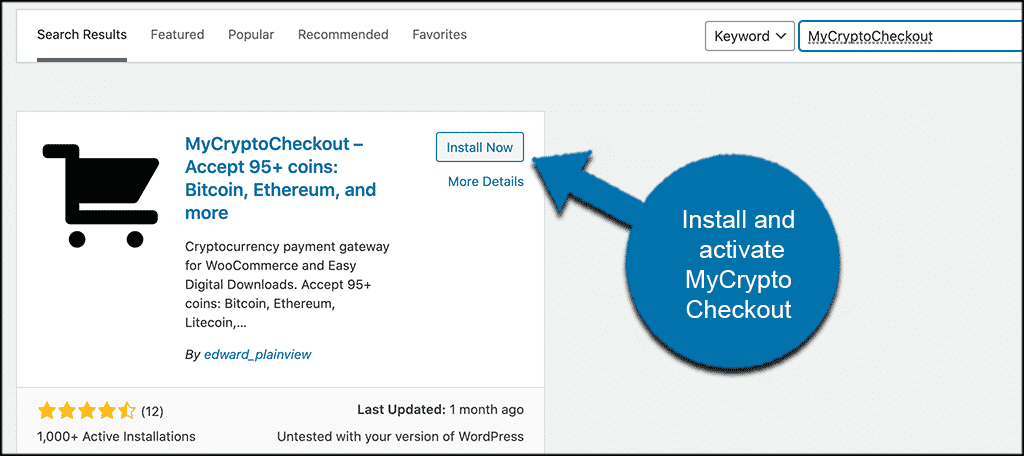 Now the plugin is active and ready to set up. To access the configuration and settings for the plugin, click on Settings > MyCryptoCheckout.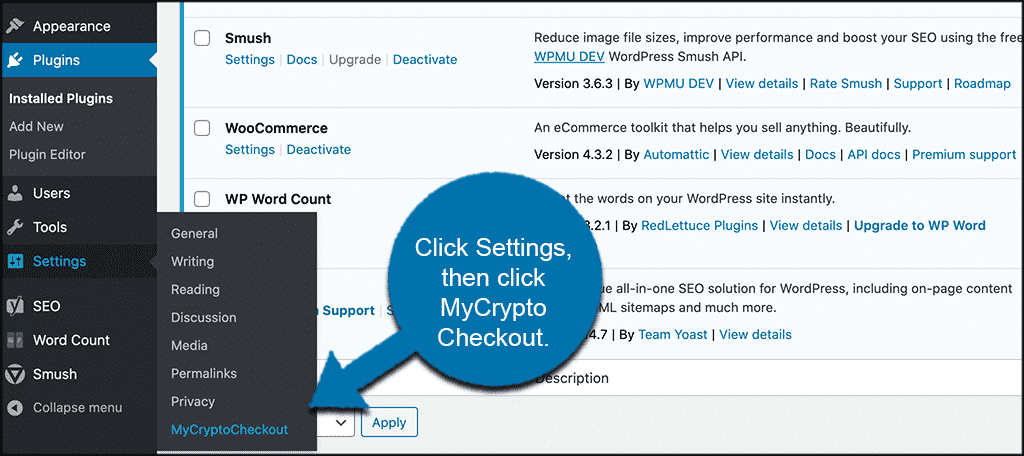 You will find this in the left side menu area of the plugin. From here, you can start setting the plugin up to take cryptocurrency payments. Let's go over this together.
Set Up and Configure MyCryptoCheckout
At this point, you should be on the main settings and configuration page for the plugin. You will see that there are seven main tabs to go through and explore.
These include:
Account

Autosettlements

Currencies

Donations

Global Settings

Tools

Uninstall
Let's run through these together real quick and get you all set up to accept cryptocurrency in WordPress.
Account
The account tab displays all of your account info as it relates to the plugin. You can view it all here and also refresh the data when needed.
Autosettlements
Autosettlement is a feature that enables you to connect your MyCryptoCheckout setup to a couple of exchanges and automatically market sell any received cryptocurrencies you specify into Flat or Stablecoins (USD, USDC, USDT, TUSD).
The sell will credit funds to your wallet on the exchange. This is a great tool for people who want to accept bitcoin and altcoins, but prefer to cash out immediately to avoid volatility.
You can set these options here if you would like.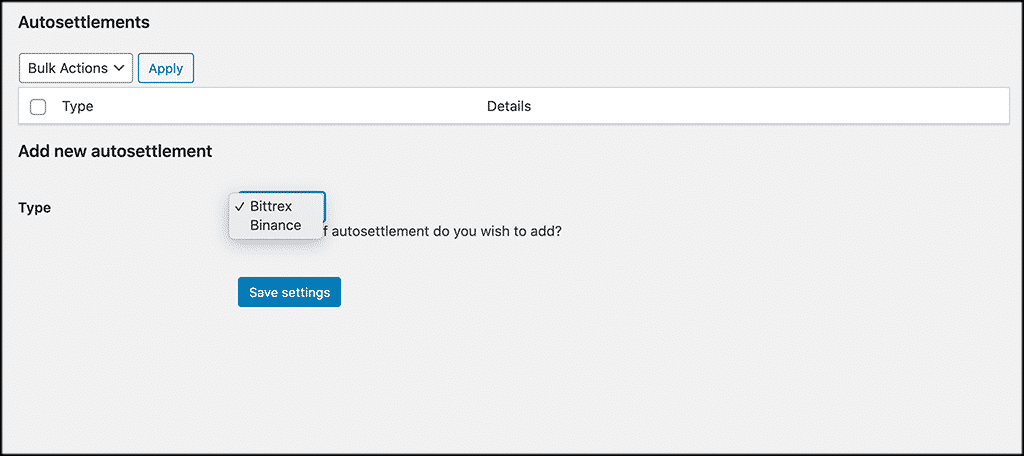 Currencies
The currencies tab is where you will set up all the cryptocurrencies you want to accept as payment. You select a currency then add the wallet address. You can add as many as you want.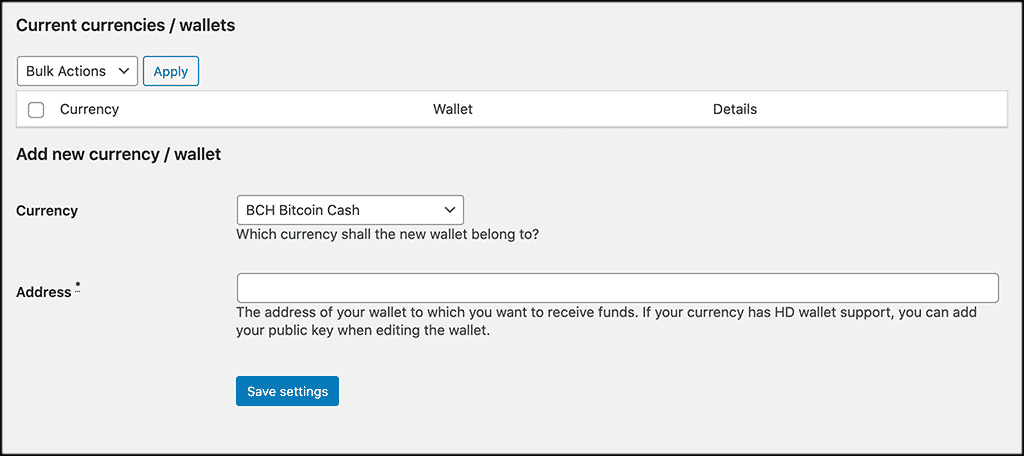 Donations
If you want to, you can have cryptocurrency donations set up on your website. You can set that up through this tab.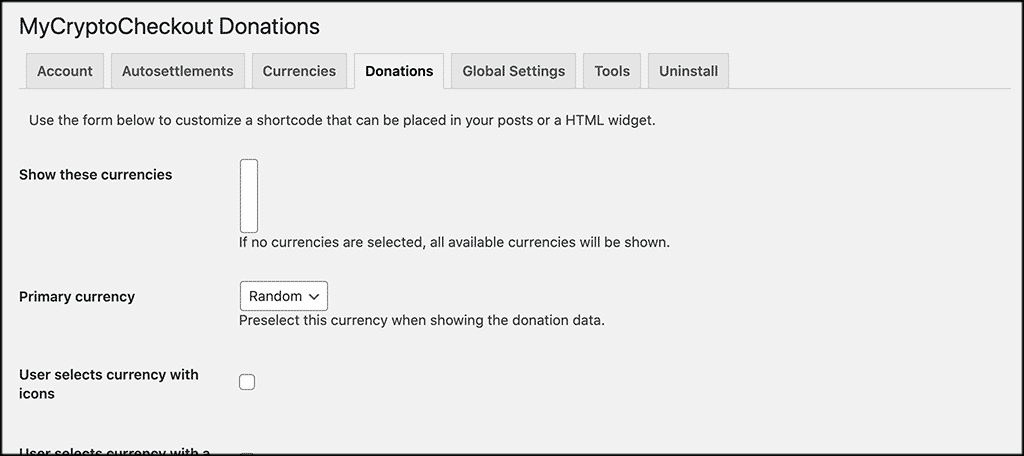 Global Settings
Here, you will find some sub-tabs to set your global settings how you prefer. There are no transaction fees, but you can still markup some things if you want. Go through and set this all up how you see fit.
Tools
You can do some testing and access a couple of other tools under this tab when needed.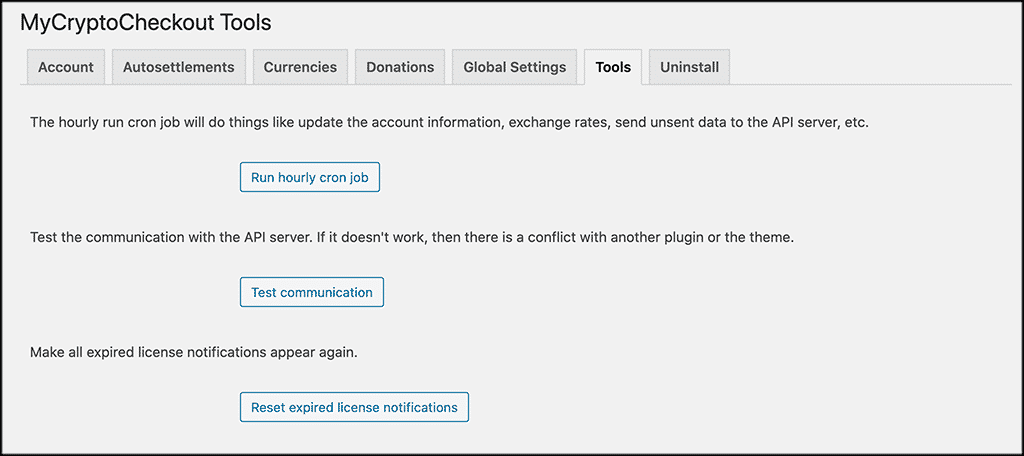 Uninstall
From here, you are able to easily and quickly uninstall the MyCryptoCheckout plugin when needed.
That's it! You have successfully gone through all the settings and configuration for the plugin.
Now your payment gateway is all set and ready to roll. Customers will see it in the payment options of your website.
Final Thoughts
Adding a cryptocurrency payment gateway option to your WooCommerce or Easy Digital Downloads store is a fantastic way to expand your payment system and reach people from other areas of the world.
These types of payments are secure and private, and have become very appealing to a lot of people around the world.
Using a solid cryptocurrency payment gateway plugin like MyCryptoCheckout will provide you a great way to do this, as it gives you everything you need to properly set up cryptocurrency payments in WordPress. While there may be other solutions to accomplish this, I think this plugin gives the most options and allows for the most functionality.
I hope this tutorial showed you how easy it is to set up crypto payments in your online store. This will open a lot of other doors for you as far as expanding your services and goods goes. Having the ability to accept cryptocurrency as a payment sets you apart from other online stores.
Have you tried accepting cryptocurrency in a different way? Do you prefer another payment gateway plugin to do this?