In this tutorial, I will show you how to view your website error logs in cPanel. Error logs can be useful when developing or testing your website. You might also check the error logs periodically to make sure something isn't broken or missing.
"File not found" and other content missing or moved errors can negatively affect your search engine ranking, so it's in your interest to make sure things are running smoothly on your site.
Viewing Website Error Logs in cPanel
Log in to cPanel.
In the "Metrics" section, click the "Errors" link or icon.

The "Errors" page will display the last 300 entries in (or 2MB of) the server error logs.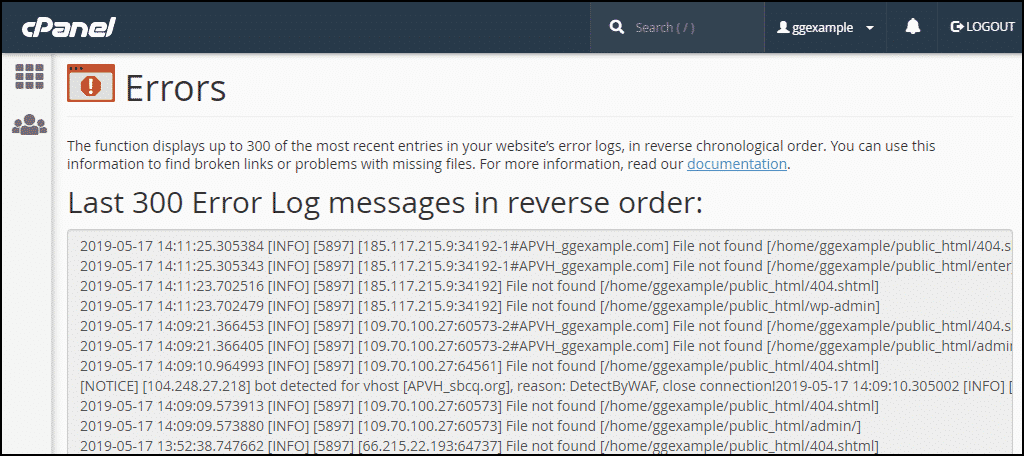 The first part of each log entry is the date and time of the error. Following that are module and process ID information as well as the visitor's IP address. But what you will typically be looking for is the error message itself.
In the example above, most errors are "File not found." After the error message is the path to the missing file.
Once you know the cause of the error, you can check your site and fix it. Often the errors are caused by links to files that have moved or been deleted. These are usually an easy fix by changing or removing the links.
You may also see [NOTICE] errors such as, "bot detected for vhost." The notice errors typically indicate that the connection to the site was closed by the server.
The reason for that varies from server to server, but the error log should indicate why the connection was closed. In this case, the server detected a bot that it considered potentially harmful, so the connection was terminated.
Here's a link to Apache's error logs page if you want to take a deep dive into server errors.
Do you ever use the server error logs when testing new pages or sections of your site? What kinds of troubleshooting tools do you use for website development?