Timelines are often used to show company progression, historical flows and even development of apps or programs. They are usually similar to some forms of infographics as you can add a visual appeal to the layout. And it's easy to add a timeline to WordPress for almost any purpose.
The purpose of most timelines is to show specific events in a chronological order. In fact, a lot of these are used in many scientific studies and reports while recording data as it happens.
In this tutorial, I'll show you how to add an attractive timeline in WordPress that will help keep your visitors engaged.
Why Use a Timeline in WordPress?
One of the ways to engage your target audience is to provide clarity of your business or purpose. A historical recording of your progress in a timeline offers an attractive way to deliver that information.
Perhaps you want to expand on your portfolio by showing your achievements. A timeline can show your progress in an attractive way for those who visit the site.
Do you have products or services planned for the future? A display showing future events helps keep potential customers involved and informed.
The possibilities are near endless, really.
Using Timeline Express for WordPress
Today, I'll demonstrate how the Timeline Express plugin works. It's one of the more popular free WordPress timeline plugins that is easy to use and place on your WordPress website.
However, you're only able to create one timeline with the free plugin. If you want more, you'll have to upgrade to the "pro" version.
Install and activate the "Timeline Express" plugin.
After activation, the plugin will immediately take you to its "about" screen. From here, you can read about getting started including in-depth instructions and and articles about using the plugin.
If you have a bit of time, I suggest going over some of these articles to learn more about what you can do with the plugin including the add-ons you can install.
Adjust Your Settings
Click the "Settings" link from the left.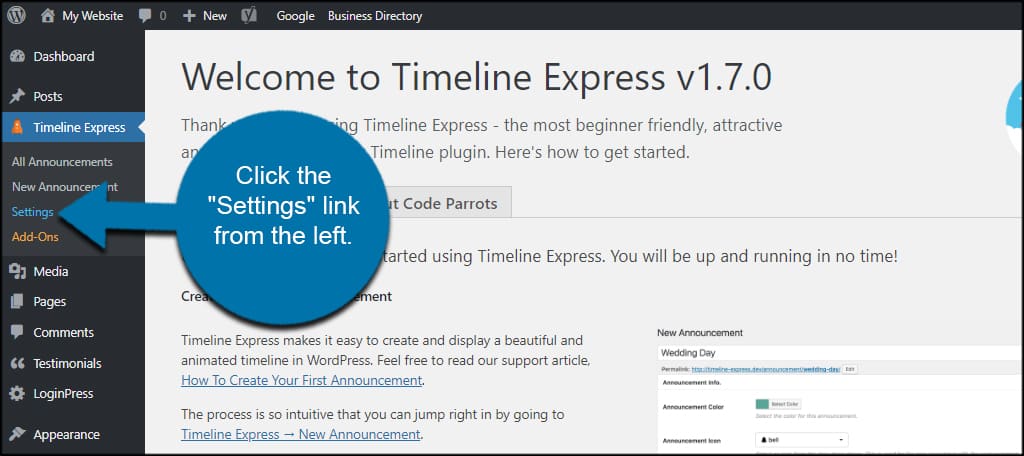 In this screen, you can change how the timeline will appear on your site. This includes things like the display order, excerpt lengths, colors and making the "read more" links visible.
For now, I am going to leave this screen as-is and create the timeline with the default settings. However, you can modify any of these elements you like to best fit your website aesthetics.
After making your adjustments, click the "Save Settings" button on the bottom.
Adding a New Announcement
The "Announcements" in this plugin are essentially the points on the timeline you want to add. You'll have to create a new announcement for each point you want to display to the visitor.
Click the "New Announcement" link on the left.
Give your announcement a title.
Input the information you want to share with visitors. This includes changing the announcement icon, banners and choosing a different color other than the default in the settings.
Pay attention to the date of this form. Announcements in this plugin will display in chronological order. So if you're creating a historical database, you want to make sure your date is correct for the event.
Otherwise, you might have events out of order.
When you're done, click the "Publish" button on the form.
Click the "New Announcement" button on the top to add more to the timeline and repeat the process.
You can add as many points as you'd like.
Placing the Timeline
When you're ready to place the timeline, go to any post or page on your website. You can also create a new one specifically to show off your timeline. I'm going to add this to an existing page just to show you how it works.
Paste this shortcode where you want the timeline to appear in your post or page:[ht_message mstyle="info" title="" show_icon="" id="" class="" style="" ][timeline-express][/ht_message]
Once you update or publish your page, the WordPress vertical timeline will then be visible.
One thing about this WordPress timeline plugin I would like to point out is how it also uses lazy loading. So if your timeline is incredibly long, elements of it will only become available when someone scrolls down the page.
This helps keep the site fast and efficient.
Accentuating Your Content with Timelines
Timelines are very useful when delivering a flow process or historical record. And because each announcement can hold content much like any WordPress post, you can add even more details to engage the audience. It's just one of many ways you can use WordPress to create a stunning piece of online real estate.
How would you use a timeline on your website? Do you find adding things like this to increase visitor retention and interaction?