Do you want to keep your identity hidden while blogging in WordPress? Starting a website is risky business because there is no guarantee that you will be successful. The amount of competition on the Internet is incredible and it increases every day. Nobody wants their name associated with failure, so hiding your identity can help if your website goes under.
Hiding your identity has advantages and disadvantages to consider before making this decision. It is worth noting that if you are looking to stay anonymous because you are about to expose high-risk information, there are other tools to better protect your identity for those situations. Today, I will show you some tips on how to anonymously blog in WordPress.
Advantages Vs. Disadvantages
Let's start by taking a look at some of the advantages of being anonymous. For starters, hiding your identity means you will not be judged for your ideas or beliefs. This is one of the most common fears on the Internet by any blogger. Once a label has been put on you, it is quite hard to get rid of it. With those fears gone, it also helps give you the freedom to create any content in any way. Lastly, but most importantly, it helps guard your personal information. Many people on the Internet are not friendly and will use your information to hurt you. This can help prevent those unfortunate cases.
These may sound great, but there are now things you can never do while hiding your identity. If you are hiding your identity, it means you can never appear in public or meet your visitors at events. The main source of income for most websites are the ads they display. To sign up for ads, you will need to provide personal information. You can still sign up for Google Adsense, but it will require your real name. Finally, if someone really wants to find out who you are, there is a strong chance they will be able to find your real identity, but this will protect you from most people.
How to Anonymously Blog in WordPress
Today, I will show you some tips on how to anonymously blog in WordPress. There are a lot of ways to protect your information when creating a blog in WordPress. These range from things like hiding your name on your website to picking a privacy protection option from your web host. There are a lot of options to choose from when you want to stay hidden.
WHOIS Privacy
Protecting your identity begins when you are creating an account with your web host. When you register your domain name, your name and email address are required and stored in the WHOIS database. This database is a collection of this type of information that is publically available. This is how you are found by most spammers online.
When you are creating an account you should see the option to pay for ID Protection or Privacy Protection. Paying for this will have your web host protect your information so it does not appear in the publically accessed database. It is very cheap, usually less than $10 a year and will help you guard your identity.
You should see the option at some point when creating your account with your web host.
This is a very inexpensive way to guard your identity in WordPress and remember, if you forgot to buy it when you created the account, contact your web host to get started.
Creating a Nickname and Website Only Email
When you start releasing content on your website you need to have a name to show visitors. Displaying Anonymous is an option, but I would recommend creating a fake blogging name for visitors to recognize. This is particularly helpful if you plan to have multiple authors on your website. You should also make sure you are using an email address that is only used for your blogging. This will make it so there is no connection between your real identity and your email address. These can be changed quite easily in WordPress.
On the left-hand admin panel, click on Users and select the Your Profile option.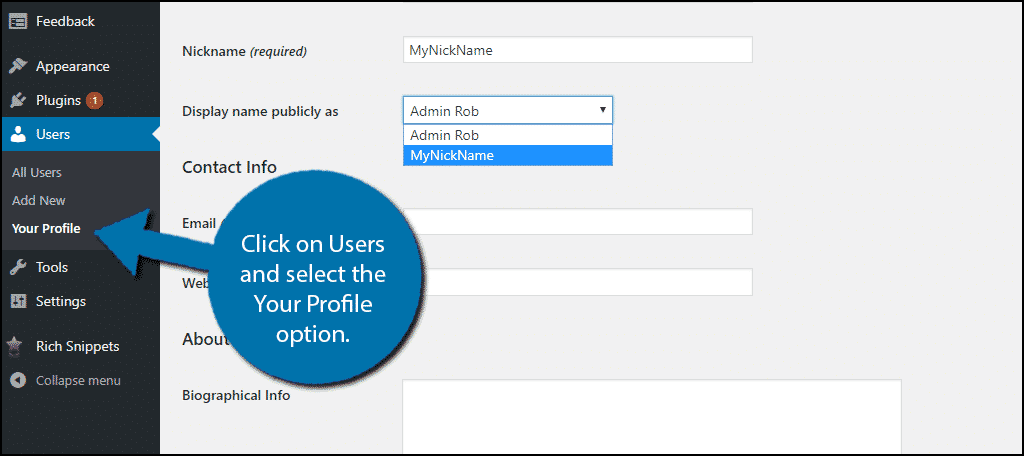 Scroll down and you will find a Nickname setting. Before you go further make sure that your Username is not your actual identity. This cannot be changed, but you can just create a new user and give it the same rights as the old user.
The Nickname is what will be displayed to your visitors when they visit your blog. Fill in the NickName text box and then select the Nickname you created to be displayed publically.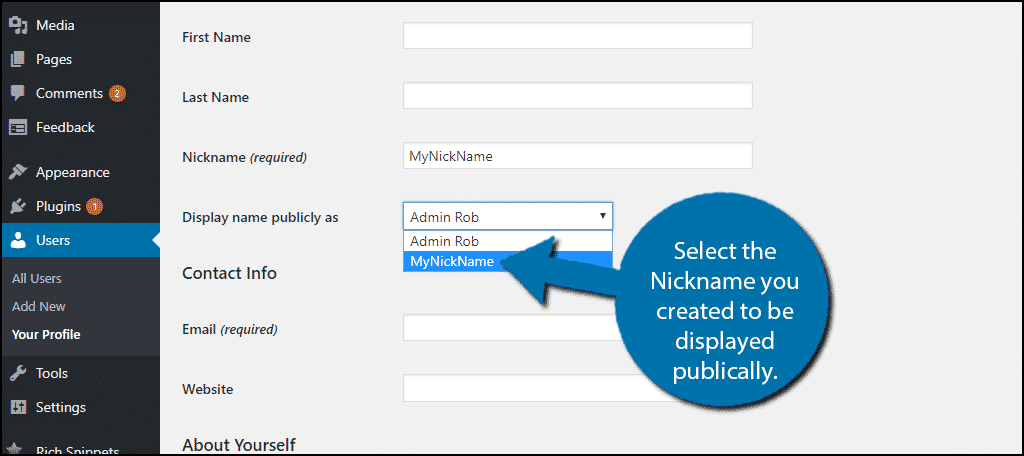 Underneath these options are the email options for your account. Create an email that will be exclusively used for your blogging identity. This will make it so there is no connection between your real identity and your email address. Add your newly created email into your user profile page.
Taking these precautions should guard your identity in WordPress.
VPN Services
One last option you can use to guard your identity is a VPN service. A Virtual Private Network or VPN will help guard your information against monitoring services. Anytime you go on the Internet, you are being monitored in some way shape or form. There are many VPN services to choose from, some of them are free and some paid. Pick the one that best suits your needs.
Keep Your Identity Guarded
Hackers and pranksters have found some creative and dangerous ways to hurt you on the Internet. This can be through identity theft and other cyber attacks. Unfortunately, it can also be physically as we live in a world where having a person's name means you can find where they live. The more unpopular your ideas or beliefs are, the more likely this can happen to you.
For example, something very common in the streaming world is a term called "Swatting". When someone discovers your real name and finds your address they make a fake call to the police and get a SWAT team sent to your house. It is extremely dangerous and has resulted in a fatality. Guarding your identity can help you prevent these situations from happening.
What steps do you take to keep your identity a secret? Why do you want to blog anonymously?