WooCommerce is a fantastic eCommerce plugin that gives you just about everything you need to start an online store and sell physical and digital goods from your website. However, oftentimes there are other tools you need to expand your shop. Creating discount rules in WooCommerce is a great option to have for your customers.
The WooCommerce setup will provide you a lot of options. That being said, there are also numerous available plugins that can help you expand your online shop and give you a lot of other options to help both you and your customers.
Having a coupon for a free product is always nice. While you can offer coupons in WooCommerce by default, the ability to offer certain discount rules is not there unless you expand some. Think of it as expanding your shop to add a better online experience for your customers. There are all sorts of plugins that add functionality. 
Fortunately, I have found a plugin that will allow you to easily add discount rules in WooCommerce. We will go over the plugin together and get it up and running. After that, we will look at how to configure the plugin and add as many discount rules as you want.
Why Add Discount Rules in WooCommerce
Customers enjoy being able to apply discounts based on different rules. This is especially helpful for things like bulk savings, and product-based discounts. Allowing these types of discounts gives customers and wholesalers added flexibility to purchase products from you.
Allowing discounts like this is a good way to keep customers coming back and help you gain new ones along the way. This is also particularly attractive if your online store deals with wholesalers. As we know, wholesaling is a different level of pricing.
Whatever the reasons may be, things like free shipping over a price and coupons for free products are always a fantastic option to have.
Let's take a look at a great plugin we found that will allow you to easily add discount rules in WooCommerce. This is just one of many that can help your sales skyrocket in WooCommerce.
Discount Rules for WooCommerce
Discount Rules for WooCommerce is is a lightweight, yet powerful plugin, that allows you to create any type of product discounts available. Some of the discounts you can create include:
Bulk

Dynamic Pricing

Advanced

Percentage-based

Product Based

Tiered for Your Products

Product Quantity Based

Cart Based

Fixed Amount

Create BOGO Sales
Basically, the plugin provides you everything you need and much more for you to be able to create a bunch of WooCommerce discount rules. There is a ton of flexibility and options in this free version of the plugin. 
You really can do just about anything with this plugin as it relates to discount pricing in WooCommerce. Let's take a look at how to get the plugin installed and activated. After that, we will go over the setup together.
Note: There is also a pro version of the plugin available. It has other options and added functionality. You are more than welcome to take a look at the pro version and see if it is right for your online store. However, this free version gives you all that you need. The setup below is based on the free version of the tutorial.
Install and Activate Plugin
In order to start adding discount rules in WooCommerce, you first need to install and activate the plugin. You can do this by jumping over to the Plugins page in your WordPress admin dashboard. Just search the plugin name and install it right from there.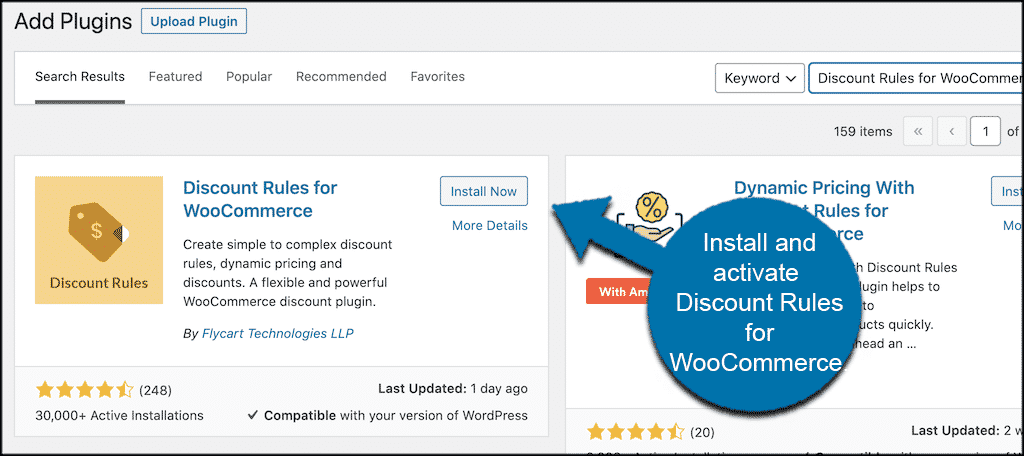 Once the plugin has been installed and activated, you need to access the main settings page to configure everything.
To do this, click on WooCommerce > Woo Discount Rules. You will see this located in the left side menu area of your dashboard. This will take you to the setup and configuration. These new menu options will appear once the plugin has been installed and activated successfully.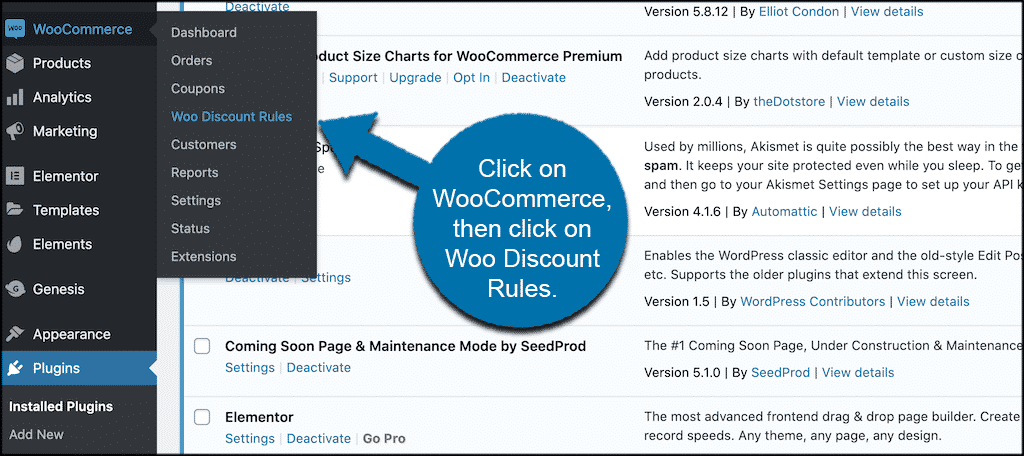 Let's take a look at the settings together. After that, we will go over adding a new discount rule in WooCommerce.
Note: this tutorial assumes you already have WooCommerce installed and running on your website.
Woo Discount Rule Settings
When you get to the main configuration page, you will see three tabs. These include:
Price Discount Rules

Cart Discount Rules

Settings
Before we add a discount rule together let's look at the settings first and get those in place. Click on the "Settings" tab to access the page. The actual settings page won't take you long, as there are only a few available options to choose from.
You will see four main sub-tabs under the settings tab link. These include:
General

Price Rules

Cart Rules

Performance

Promotion
Let's go through these together.
General
Add your general rule selections here. There are only a few settings, so it won't take long.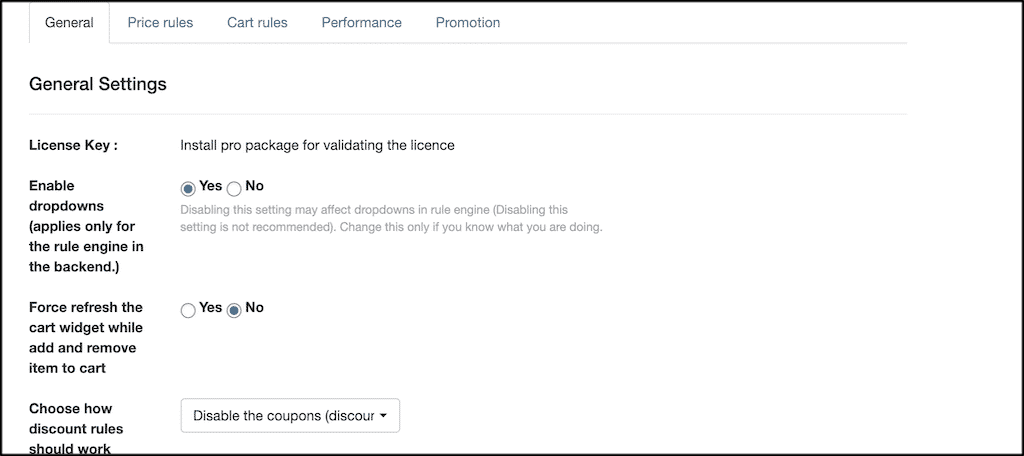 Price Rules
The price rules tab is where you fill in all the relevant price rules and set up for adding them. Go ahead and scroll through all of these settings and make sure you check out all the sub links for added settings.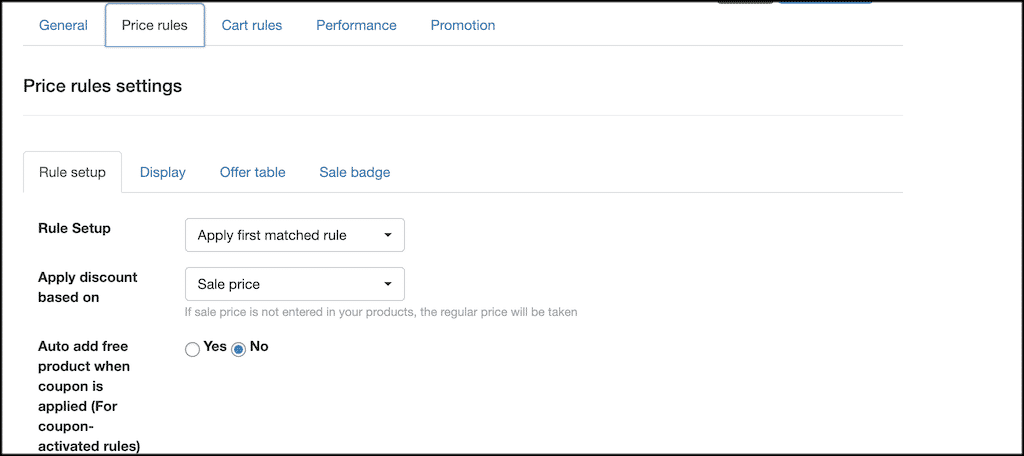 Cart Rules
Set the rules you want in place for your cart from this tab.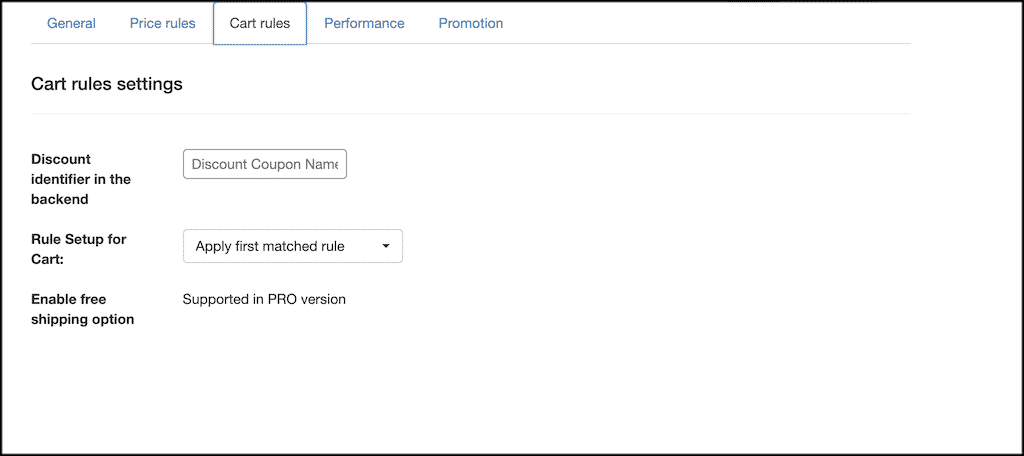 Performance
Simply set your cache and performance settings of your choice from this tab.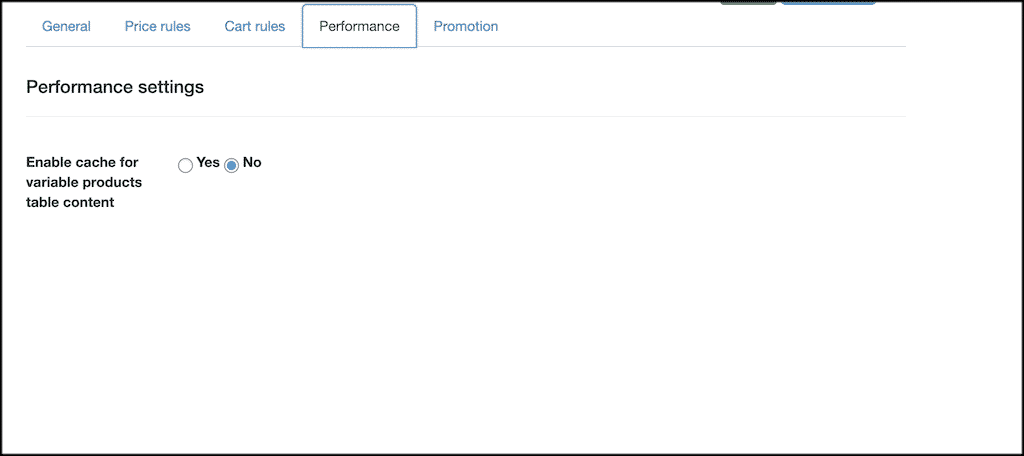 Promotion
This is where you will set up all the promotion settings you want.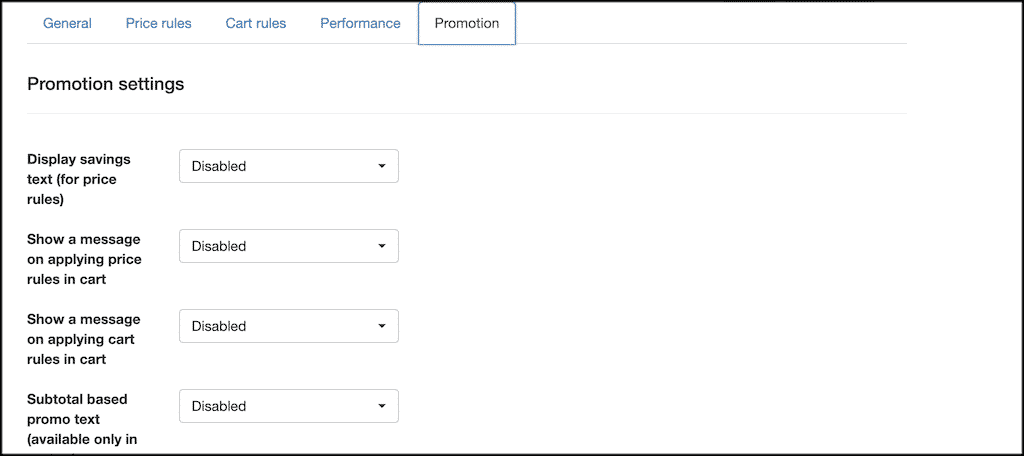 That's it. At this point, the settings you want are in place. Let's go add a discount rule together.
Add a Discount Rule
Now that the settings you want for the plugin are in place, let's go ahead and add a discount rule together.
Note: The process of adding a cart discount rule or a price discount rule is the same. In this case, we are going to add a price discount rule. Go ahead and click on the Price Discount Rule tab.
Then click on the blue "Add New Rule" button.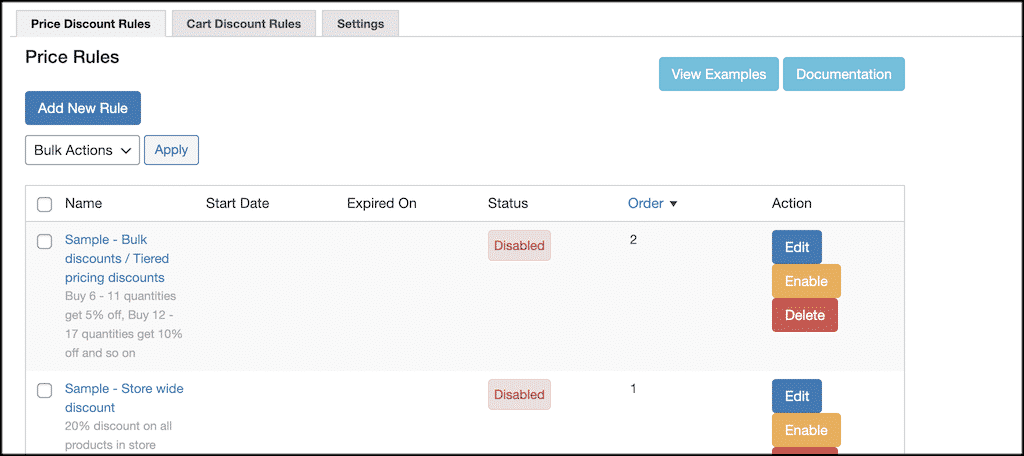 Go ahead and add your new price rule name, priority, and description. This is all under the general link.
Now click on the condition link and add all the settings you want as far as the rule condition goes.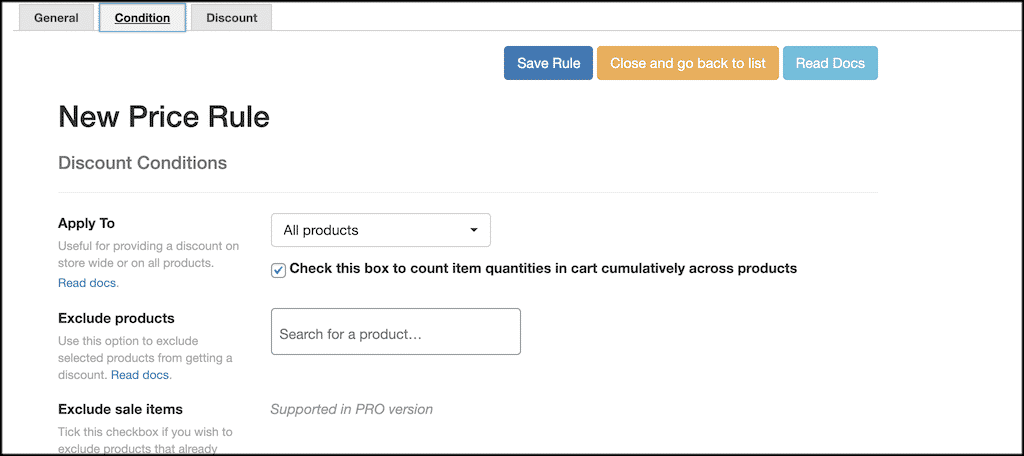 Finally, click on the Discount link and add the actual discount for this rule. You can also add quantity ranges if you choose.
That's it! Simply click on the save button and your new discount rule in WooCommerce has been saved and is ready to use.
The new rule you created will show in your discount rules list. Simply "Enable" it and you are good to go.
Final Thoughts
Adding discount rules in WooCommerce does not have to be difficult or time-consuming. If you have the right tool, then you can actually accomplish this in no time at all.
Using the Discount Rules for WooCommerce plugin gives you a fantastic, simple, easy to use, and easy to implement way to add all sorts of discounts to your WooCommerce online store.
I hope this tutorial has shown you how easy it is to add discount rules in WooCommerce. You can repeat the steps above and create as many as you would like for your store.
Have you ever added a discount rule using this plugin? Do you prefer to create and add discount rules using another method?