WordPress is an easy system to use when you need to get content up quickly on your site. However, not everyone knows the best way to create content when creating a new post. After all, you want to inspire your readers as best as you can. Understanding the features available to you can contribute to boosting visitor retention. This means, people will be more likely to stay on your site and explore. Here are 13 useful properties to know when you build a WordPress post.
1. The Editing Screen
The editor is complete with the ability to change your title, customizing the URL of the post, adding media and a collection of formatting tools for the text. A lot of people find it more useful to use the "Text" editor screen, especially if they have HTML programming knowledge to add more to the post.
2. Adding Media
Studies show a website article that incorporates images performs better for visitor retention. WordPress makes adding this easy with the "Add Media" button to place images or even videos.
3. Publishing the Content
When creating a new post, pay close attention to the "Publish" section in WordPress. You have access to everything from the visibility of your article to setting specific times to publish the current post you're working on.
4. Using Categories and Tags
Using categories and tags in your material will help you organize content. As a result, your visitors will be able to find the information easier. It will also help you deliver a sense of professionalism and expertise.
5. Uploading a Featured Image
A featured image is different than others using the media button. This image will be used to highlight your post on the front page. It will also be displayed as the header of the post when someone visits. Various plugins and themes will use this graphic automatically when designing your website.
6. Screen Options
A lot of fields can be controlled through the "Screen Options" tab located on the top. From here, you can turn on and off a variety of features such as the author, excerpts, categories, custom fields and more. You can also choose whether to use a one or two-column layout for your editing screen.
7. Using Excerpts
An excerpt is a small piece of your post that is displayed to highlight the article. Many themes, such as ColorNews, will use the excerpt in areas like the front page. It's like a teaser for your content that can be displayed without showing the entire piece.
8. Trackbacks
When trackbacks are set up, WordPress sends a website owner a message when you link to his or her content. This has potential to be helpful when establishing a relationship with other owners. However, these trackbacks are not necessary if you're linking to another WordPress-based site.
9. Custom Fields
A custom field can be useful when you need to add a bit more information to a WordPress post. They are often helpful when adding more metadata to a piece for SEO purposes. This is often the case in certain kinds of themes that may be missing a particular feature.
10. Discussion
The settings in "Discussion" allow you to control how comments appear on the post. With a simple check box, you can enable or disable comments and trackbacks.
11. The Slug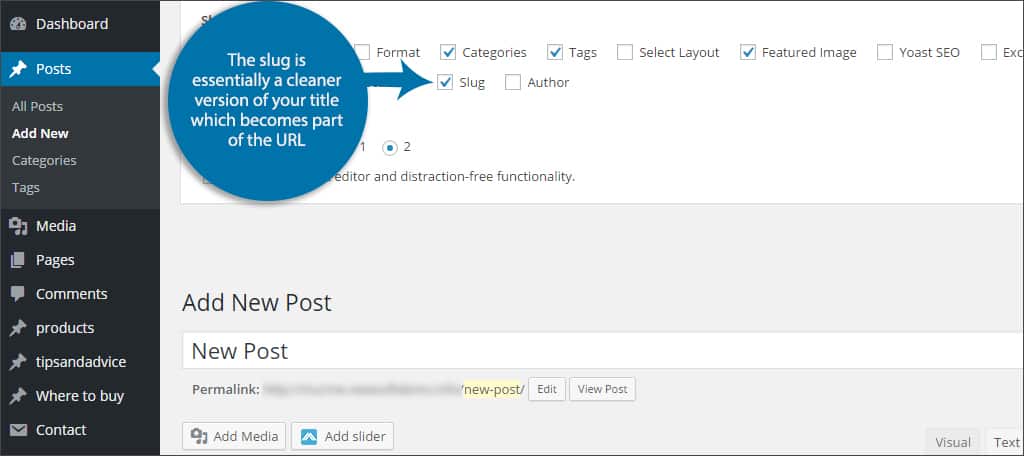 The slug is essentially a cleaner version of your title which becomes part of the URL. Normally, WordPress will do all of this automatically, but some will use plugins to further alter the slug and URL. This is often the case for those who want to remove stop-words from URLs and slugs. For example, a post titled "10 Ways to Cook Chicken" will show up like, "10-ways-to-cook-chicken." This is the slug of your article.
12. Author
WordPress will automatically set the author of the article as the account you use to log in. However, there may be times when you're making a new post from someone else. The "Author" field allows you to change who gets credit on the site for that content.
13. Plugin-Specific Options
Various plugins will also add a field in the post screen that may have other options. For example, the plugin "All In One Schema.org Rich Snippets" will add a control for changing what kind of a snippet to use for SEO purposes.
When you learn the tools available in WordPress, creating content in a new post can be productive as well as fun. The kinds of things you can do seem to continuously increase year after year. The next time you create a WordPress post, see what kind of life you can breathe into your content. You may find the site to perform better over time.
What kind of features do you use the most in WordPress? How often do you explore other features in the system you've never used before?
Kaumil Patel is the Chief Operating Officer of GreenGeeks and has over 13 years of experience in the web hosting industry working for and owning web hosting companies. Kaumil's expertise is in marketing, business development, operations, acquisitions and mergers.