If you plan on marketing to the EU, you need to be aware of GDPR compliance. And although it might sound like an arduous process to bring a site up to European standards, it's actually quite a simple process. For the most part, all you need to do is choose the best WordPress GDPR plugins that fit your needs.
In fact, the hardest part about implementing GDPR compliance on your site is picking a plugin. Everything else is relatively simple.
What is WordPress GDPR Compliance?
The General Data Protection Regulation law was put into effect in 2018 to govern over data protection and privacy for those in the European Union.
To be compliant, website owners need to advise visitors when cookies are being used or if the site collects personal information. This gives the individual a chance to accept or deny the terms and choose whether to leave the site.
By the end of December in 2018, only 29% of organizations in the EU were GDPR-compliant. This means the remaining 71% could face fines and penalties. Which I find a bit silly since it doesn't take a lot of effort to add compliance.
Today, I'll share with you 11 of the best WordPress GDPR plugins you can install right now.
The Best GDPR WordPress Plugins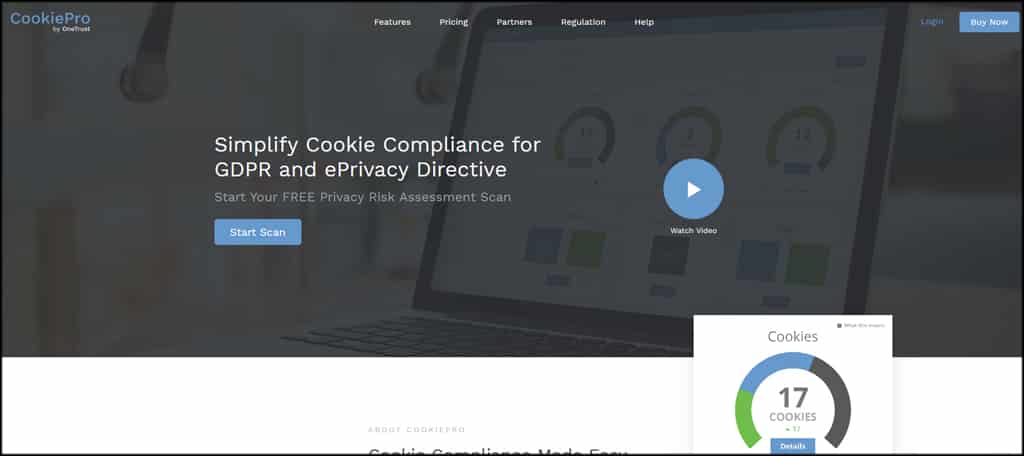 CookiePro is an intuitive system that not only helps with notifying your users of GDPR compliance, it will also scan your site for any cookies it uses.
This scan is pitted against a database of more than five million cookies and tracking technologies!
The plugin also delivers a quick and easy to use interface allowing visitors to disable specific cookies when visiting the site. This means visitors can pick and choose which elements they are comfortable with if any at all.
The system comes equipped with a secure portal that allows visitors to submit and track data requests. And if you use the Enterprise version of the plugin, you can also show your GDPR banner to EU-only visitors.
CookiePro offers an affordable solution for GDPR compliance. You can start immediately using the free version, or pay the subscription fee to gain greater flexibility and control.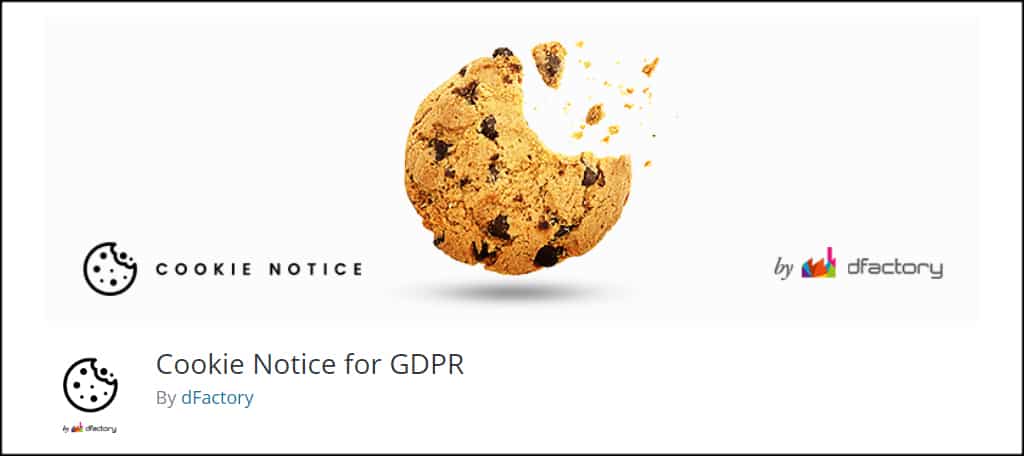 Using cookies is probably one of the most common forms of data collection and usage on the Internet. For those sites that use this form, Cookie Notice for GDPR is one of the most popular plugins for WordPress.
The tool comes with several options available to customize the usage on your website. For example, you can accept cookies on scroll, refuse functional cookies, revoke user consent, or redirect users to a compliance or privacy policy page.
One of the things that make this plugin stand out is the compatibility for Polylang and multilingual support. It's also SEO friendly and allows for cookie expiration settings.
With over one million active installs and an exceptionally high user rating, it's probably the best WordPress GDPR cookie plugin you can install.
It's quick and easy, and the hardest part about setting this one up is writing your privacy policy for using cookies in the first place.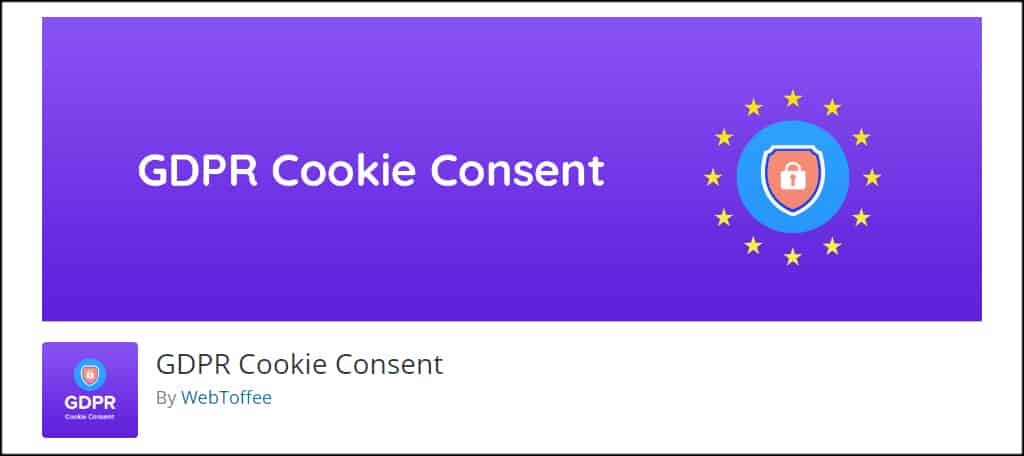 Another exceptionally popular plugin for its purpose is the GDPR Cookie Consent tool. Nearly half a million users have this installed on their websites.
This plugin comes with a variety of settings to help make your site compliant. You can choose to turn on and off the cookie bar, show it as a banner, choose where to show the information and choose whether to make it sticky on page load.
GDPR Cookie Consent also provides a few customization options to fit your site's design. For instance, you can choose the cookie bar color, message and change how the button appears to users.
One of the things that stands out to me regarding this plugin is the cookie audit it performs. The plugin offers a shortcode you can use which will display what cookies your site utilizes so you can show visitors on your privacy policy page.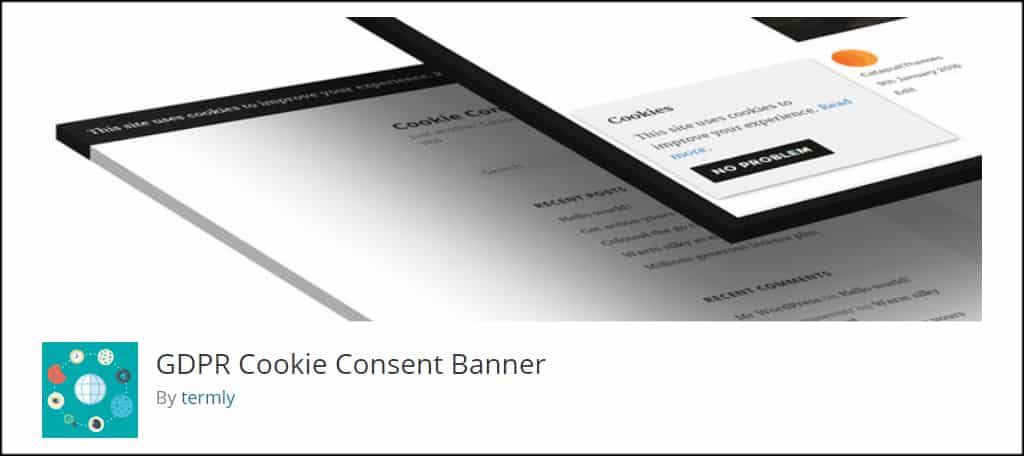 The GDPR Cookie Consent Banner gives you a flexible system to show your compliance on the website. For instance, you can choose to either show it in a sidebar, top, bottom or as a floating element.
In this plugin, you can choose to exclude the notice on specific pages, only show the notification once per user and how you want the plugin to dismiss messages. You can also use the WordPress Customizer to make adjustments to how it appears.
The compliance notice will adopt your theme's styles in some cases. This means it will adapt its appearance to match the layout of the site depending on the theme.
GDPR Cookie Consent Banner is responsive for mobile devices and comes with translation support.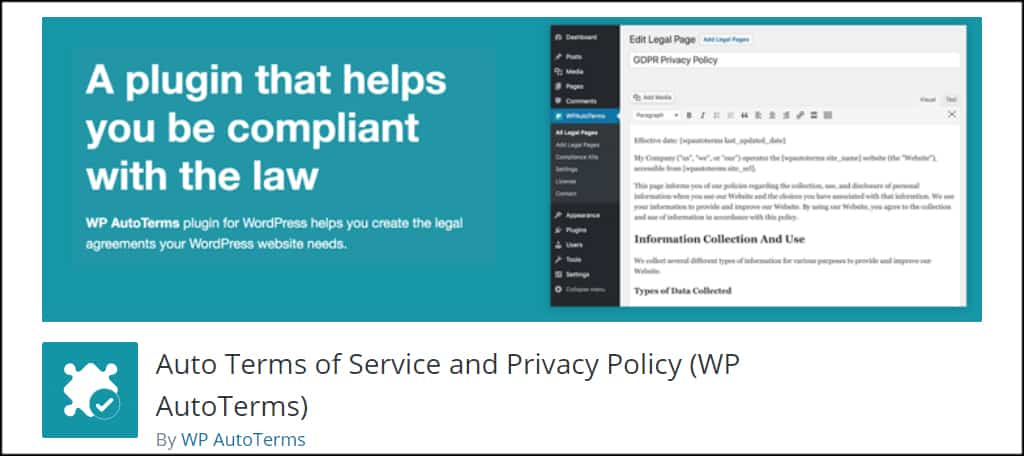 For those who need help with legal forms, WP AutoTerms might be a good solution. The plugin helps with a variety of requirements you might have to bring WordPress completely legal.
This includes GDPR or even a disclaimer when using affiliate links.
The plugins helps create a cookies policy, terms of service and a privacy policy for your site. You can also use the tool to govern over any other legal documents you might have outside of these top three.
In the free version, you can create links to legal pages which is automated and can easily be accessed from the footer of your site. You can also create update notices in an announcement bar to inform users of changes.
Perhaps the greatest features, though, are in the premium version of the plugin. It will automatically create a privacy policy complete with wording specific to the GDPR, provide a cookies notice and other disclaimers.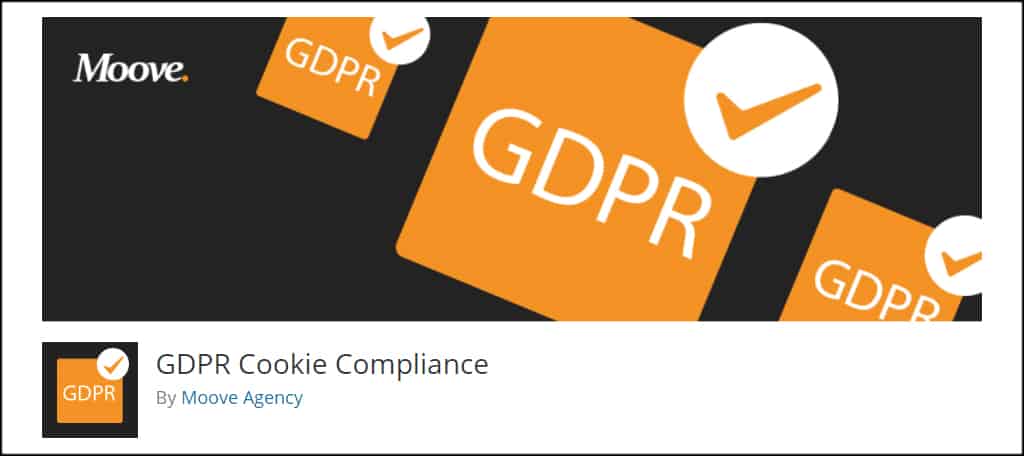 Moove GDPR Cookie Compliance has a lot of features that put it among the best GDPR plugins for WordPress. Not only does it provide cookie information to users, but it lets them control what cookies are stored and the ability to revoke certain ones.
It also comes with a customizable and editable platform to give you control over logos, colors and fonts. In other words, you can give it a unique appearance according to the layout of your site.
Moove is compatible with a variety of translation plugins and comes with two different layouts.
For those who use a CDN service, this plugin also supports base URLs from those systems. This means you can always ensure visitors that they have the most current policies regardless of where they are in the world.
The premium version of the plugin comes with analytic data which shows how many users are accepting the cookie agreement. It also allows for geolocation, which means the cookie banner is only visible to visitors from the EU.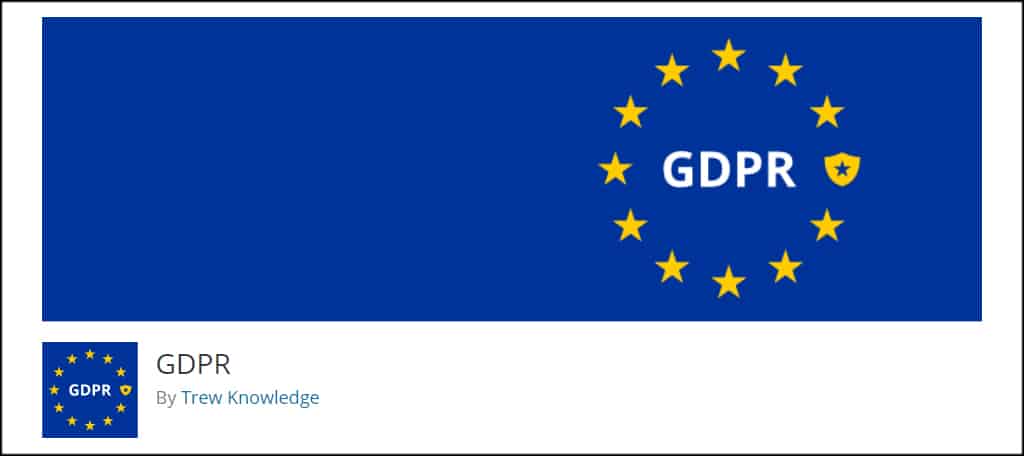 This plugin, basically labeled GDPR, is a great consent system for those who just need basic coverage. It offers a variety of compliance forms ranging from a basic "I understand" submission button to new user registration fields.
Visitors can use the frontend interface to manage their own preferences regarding what cookies to allow as well as specific banner notifications. This includes the ability to erase personal data using an opt-in confirmation email.
Unlike some WordPress GDPR plugins, one of the attractive elements of this particular tool is the telemetry tracking feature. This will show any data that is being sent to other sites outside of your own. The report will show what plugin, theme or file is responsible.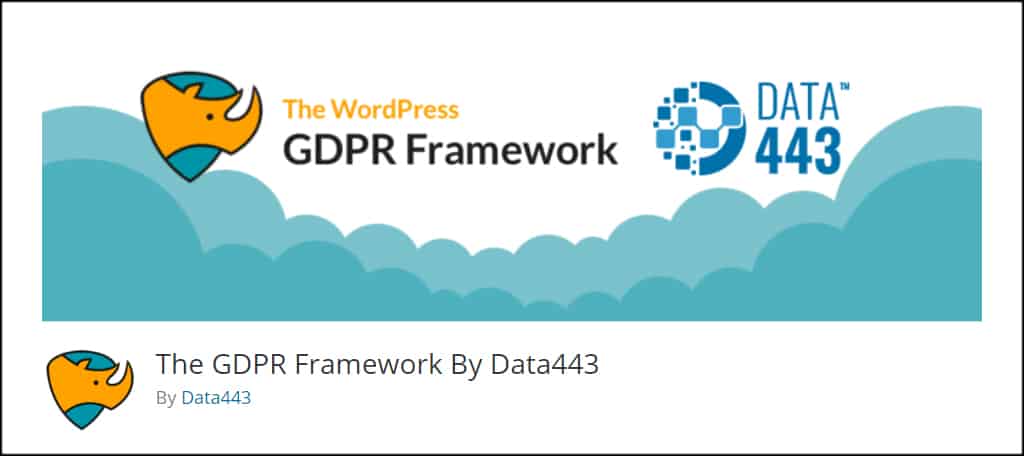 GDPR Framework by Data443 is a great tool for managing personal data on a website. Not only will the plugin delete personal information automatically, but it can also be set to anonymize data as well.
This plugin will generate a GDPR compliant Privacy Policy template page into WordPress. You'll have to fine-tune it a bit to make it fit your specific website, but most of the groundwork of the policy is readily available.
One of the highlights to GDPR Framework is the support it has for other plugins. This includes Gravity Forms, Contact Form 7, Formidable Forms, and WPML.
You can even provide support for your WooCommerce website should you own an online store.
If you're curious as to what items on your site are utilizing data, GDPR Framework will provide a report on those elements. This is helpful if you're not sure what plugins, themes, or files are accessing personal data.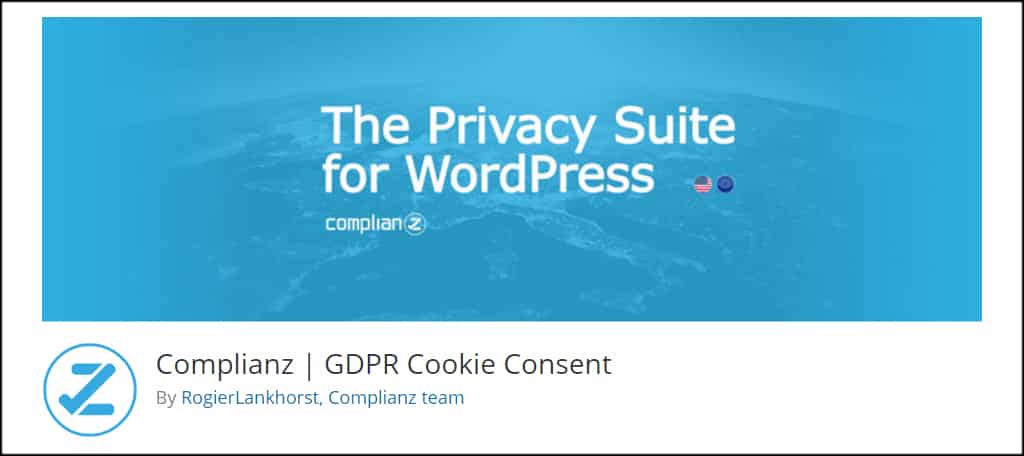 While not as popular as some of the others in this list, Complianz is a solid plugin with a great rating with its users. It has a lot of excellent features that place it among some of the best GDPR cookie plugins for WordPress.
For one thing, the premium version comes with A/B testing for cookie banners. This lets you try out new layouts to find which has the best consent ratio, which may improve overall visitor engagement from the EU.
In the free version, you can anonymize IP addresses when it comes to Google Analytics should you need it. It also will block cookies form external social media sites such as Facebook and Twitter.
This is another plugin that integrates well with some of the most common contact form methods for WordPress including WooCommerce.
And for those who use the Gutenberg editing system in WordPress 5.0 and later, this plugin comes with blocks to simplify your layout for pages.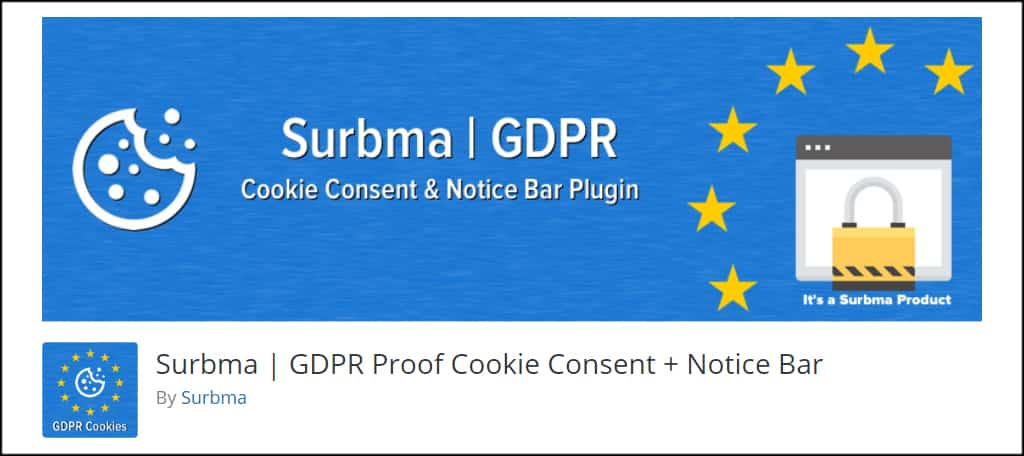 Another great addition to WordPress GDPR plugins, Surbma comes with several customizable options that give you control over how Google Analytics collects IP address, Facebook's tracking pixels, and cookie expiration dates.
The plugin comes with a popup for the cookie policy as well as creating a legal form for the site. In fact, you can go so far as to hide the decline button forcing users to either accept or leave.
The free version of this tool is compatible with Polylang and WPML providing multilingual support for a wide audience around the EU.
If you want to use the tracking customization for Google Analytics or have access to other popup styles and themes, you'll need to upgrade to the premium version of the tool.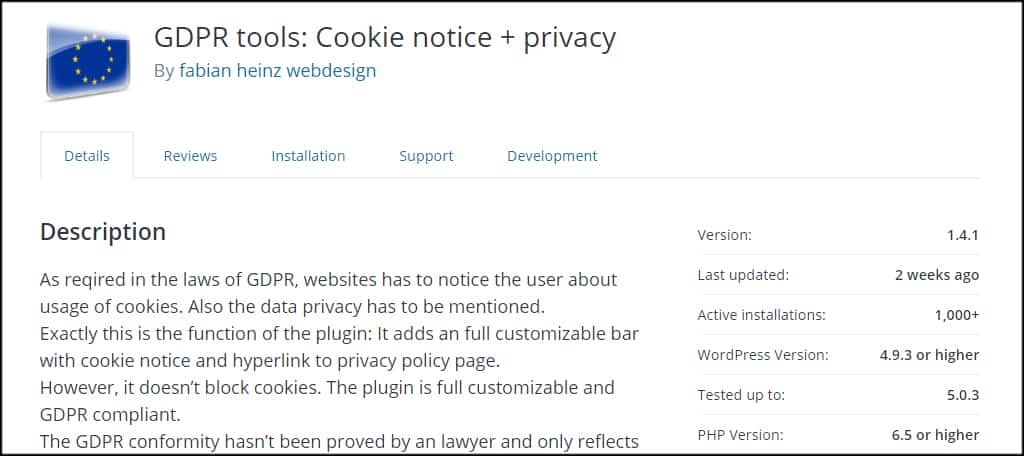 GDPR Tools is another basic notice system for users who access your website. It delivers an obvious information bar across your website and includes a link to your privacy policy.
The bar itself is customizable so you can make it fit with your design's aesthetics or create a contrasting element to make the notice stand out more.
It's an easy to use method to help drive GDPR compliance without having to think too much about the process.
The biggest drawback, though, is how it doesn't block cookies either in the back or frontend of the site. If you want to have this ability, it's probably a better idea to use one of the other plugins above that I mentioned.
Although this plugin is very basic in terms of functionality, it is compatible with Polylang. This means you can deliver the notice in a variety of languages depending on your target audience.
I added it to this list because of its simplicity. If you don't want a lot of bells and whistles and just want a solution to inform visitors you use something like Google Analytics, this might be the only plugin you'll need.
Do All Websites Need GDPR Compliance?
Not all websites need to have GDPR compliance added. For instance, a personal blog that does not collect data from visitors is not subject to the law.
However, adding visitors to an email list or newsletter will require GDPR compliance as you're now storing personal addresses.
Even adding things like a Facebook feed or social media login for comments may subject the site to GDPR compliance.
Probably the best rule of thumb is to add GDPR compliance if your site requires any kind of input from your visitors. This may include using things like Google Analytics in WordPress for visitor tracking.
And yes, the GDPR law does affect US businesses as well.
Keep Your Site Compliant
The last thing you want is to cause legal trouble due to a lack of compliance with the GDPR. All it takes is a few moments of your time and your site is ready for European traffic.
Perhaps the hardest part is choosing which of the best WordPress GDPR plugins will suit your needs. All of them have excellent features and help you create a compliant website.