For better or worse, social media is one of the most important aspects of a business's marketing strategy. For this reason, you are going to need the right tools for the job. And that's where social media plugins for WordPress come in.
These plugins offer websites the toolsets they need to help get visitors to interact with their social media pages and share content with friends. They range from tools that focus on a specific medium to ones that cover most major platforms.
However, due to how essential social media has become, there is no shortage of plugins to choose from. This has made selecting one for your website very difficult, but this list can help you find the best ones.
Today, I will share the best social media plugins you can use with WordPress.
Why Use Social Sharing Plugins with WordPress?
Social media is arguably one of the major cornerstones of the Internet. More people are sharing their Snapchat or Instagram accounts more often than their phone numbers.
Because of the prevalence of these sites, you want to make sure your content is available and ready to consume by those people.
Using social media plugins can contribute to:
Boosting traffic by reaching a larger audience.
Increasing your online presence and reputation.
The potential to make more money.
Increasing engagement from your visitors, which may improve on-page time.
However, there is a downside to overloading your website with a social presence. Some tools can greatly affect your site's performance, which could cause it to lose page ranking on Google.
Poor performance can lead to a reduced user experience when writing new post content in WordPress.
This is because some of them will use external, third-party data. The result is a slow loading time as the visitor has to wait for your website to collect the data from other sources.
Luckily, not all social sharing plugins will affect WordPress in such a negative way. Some will simply provide a button necessary for people to share your content on their social feeds.
Like any other plugin you install, make sure you test it to make sure it's not having an incredibly adverse effect on performance.
Our Picks for the Best Social Media Plugins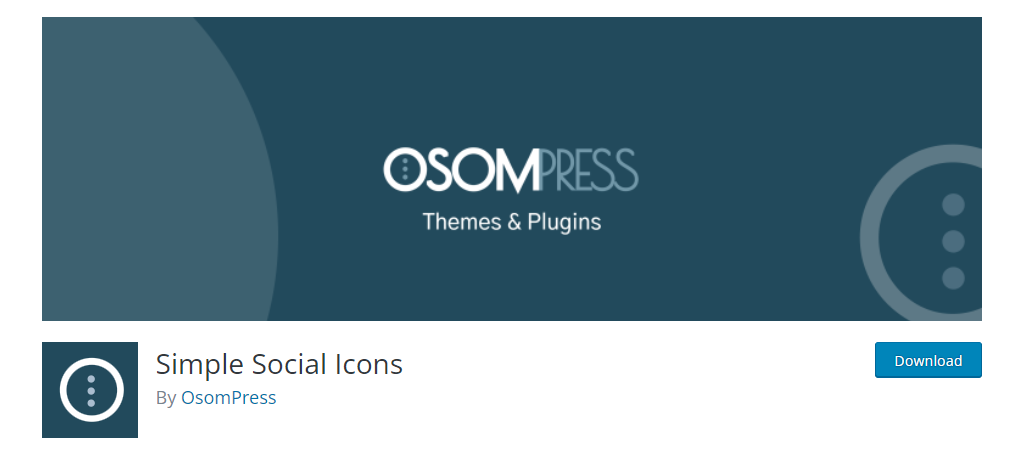 Without a doubt, the most helpful feature when it comes to sharing your content on social media are social icons. And no one does it better or easier than the Simple Social Icons plugin.
Social icons make it easier for visitors to find your social media pages and share your content with friends.
This plugin offers support for all of the major platforms like Facebook, Twitter, Instagram, LinkedIn, YouTube, and many more. And as the name implies, it is incredibly simple to use.
All you'll need to do is choose which social media platforms to use with the Simple Social Icons widget in WordPress. Simply enter a URL link to your social media account in the appropriate space and the icon will appear in the sidebar.
Benefits of Using Simple Social Icons
Since you only need a URL, you can link to any social media account, not just your own
You can upload your own social media icons in WordPress
You can choose what order the icons appear in (requires code)
Supports over 20 social platforms
Works in any widget area
Drawbacks of Simple Social Icons
You'll need to edit the code to reorder the icons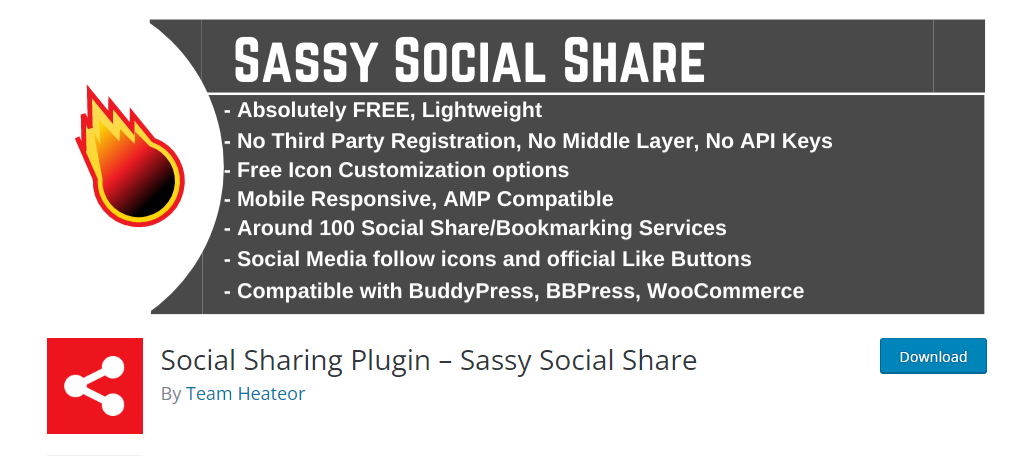 If you are looking for a highly customizable way to share social icons in WordPress, look no further than the Sassy Social Share plugin. This is a lightweight social icon plugin that offers several design options for sites.
Not only do the buttons have multiple designs, but the plugin also supports multiple layouts.
These include multiple horizontal and vertical design patterns to display your favorite social accounts. And this plugin sports the most social icons with over 100 platforms to select from.
Everything about the icons is customizable from the size to the color. This can help match the design of your website or even add a festive touch like making all of the icons orange for Halloween.
Benefits of using Sassy Social Share
Full customization from design to layout of each social icon
You can display the number of times visitors shared your content
Compatible with BuddyPress, BBPress, and WooCommerce
GDPR compliant
Can toggle social icons on or off for certain posts and pages
Drawbacks of Sassy Social Share
This plugin does not work on a local server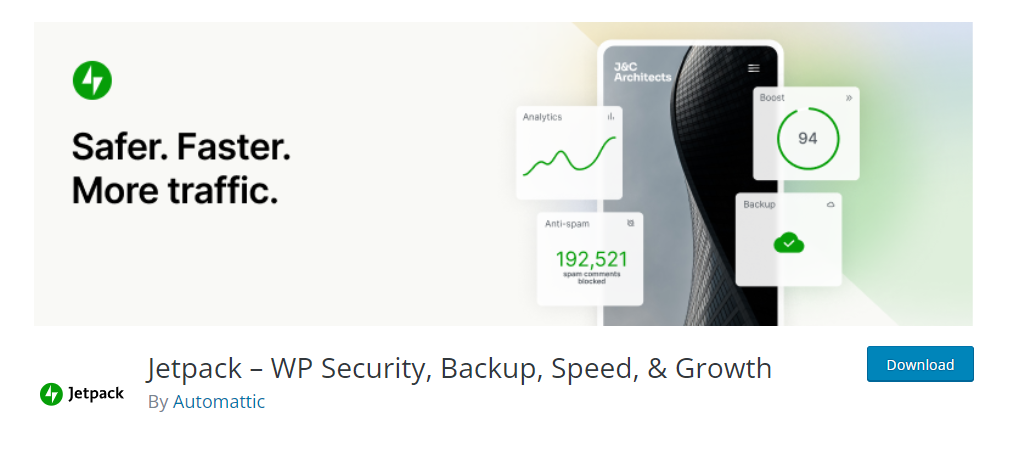 Jetpack does just about everything with its huge selection of modules to choose from. Most websites just use it as an anti-spam tool, but it has a great selection of social sharing tools as well.
The Sharing module allows you to display social icons at the bottom of any post or page in WordPress.
It supports all of the major sites and many smaller platforms as well. You'll also have options to customize each icon. For instance, you could choose to only display the platform symbol instead of the full name.
You can choose what devices the buttons will appear on. For example, if you need to save room, you could choose to not display the icons on mobile devices, although, I wouldn't recommend this as mobile sharing is huge.
Benefits of Using Jetpack
It does way more than just social sharing
Icons are highly customizable
This is a free module that just needs to be toggled on
The icons look very professional
It's very easy to choose which icons to display
Drawbacks of Jetpack
The number of options can feel overwhelming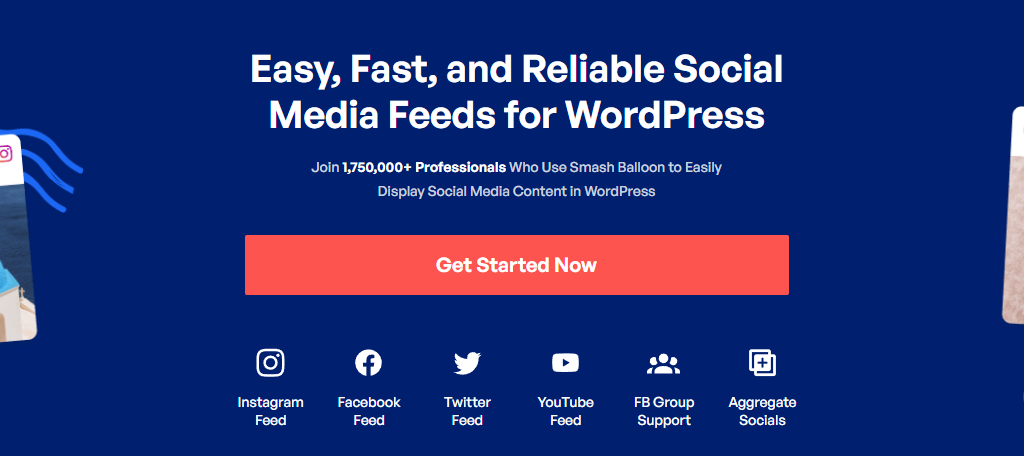 Smash Balloon isn't merely a single plugin as it actually offers plugins for each of the major social networks including Instagram, Facebook, Twitter, and YouTube. Each plugin is tailored to that specific platform, and the quality really shows.
Honestly, if I were to rank them individually, each plugin by Smash Balloon would make the list.
There is even a plugin to help you combine the feeds from different platforms into a single social wall. Each plugin offers features for the specific platform and optimizes them for a WordPress environment.
For instance, the Smash Balloon YouTube Feed allows you to display the latest videos from your channel, display live streams, and even showcase playlists. It even provides multiple layouts for you to take advantage of.
Each of the social plugins is similar to this, but the feature differs on a platform basis.
Benefits of Using Smash Balloon
Link Instagram Stories and photos in WordPress
Display live Facebook broadcasts
Display tweets that mention your account
Offers an incredible amount of customization
All elements are mobile-responsive
Drawbacks of Smash Balloon
Each social platform has an individual tool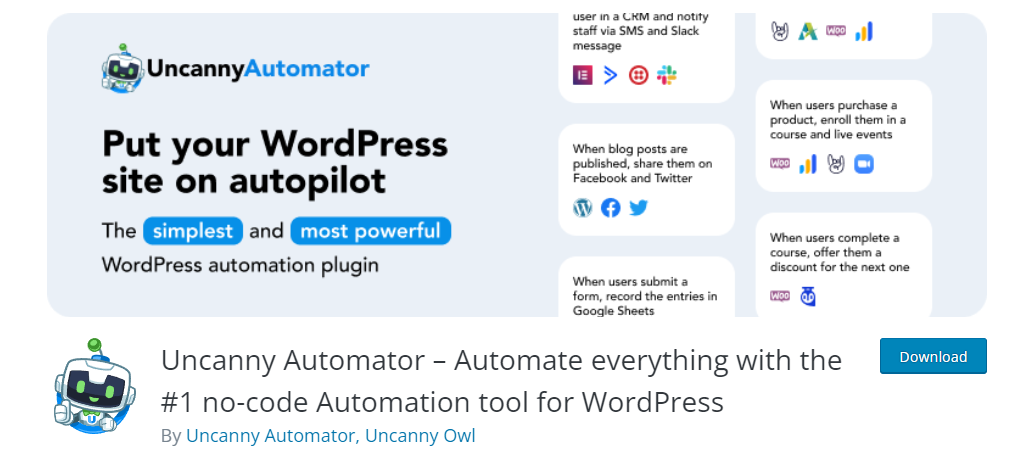 Managing your social networks is a lot of work, but what if it didn't have to be? While this may sound like wishful thinking, the Uncanny Automator plugin can help you achieve this by automating much of the process.
In short, this plugin allows you to integrate your WordPress site and your favorite social network together seamlessly.
What you can do depends entirely on what platform you are connecting. For instance, when you publish a new blog, you probably want to post that on Facebook and Twitter. You can set that up to happen automatically with this tool.
This plugin isn't exclusively for social networks. You can also set it up to connect your site with popular apps like MailChimp or Slack.
Of course, while the free version exists, to really make the most of this, you will need to purchase the premium version.
Benefits of Using Uncanny Automator
Automate asking users to leave a reviewer testimonial after the purchase
Automates most routine tasks
Customize all automatic messages
Share job opportunities on LinkedIn
Post content to your Facebook Groups
Drawbacks of Uncanny Automator
A lot of integration options are locked behind the premium version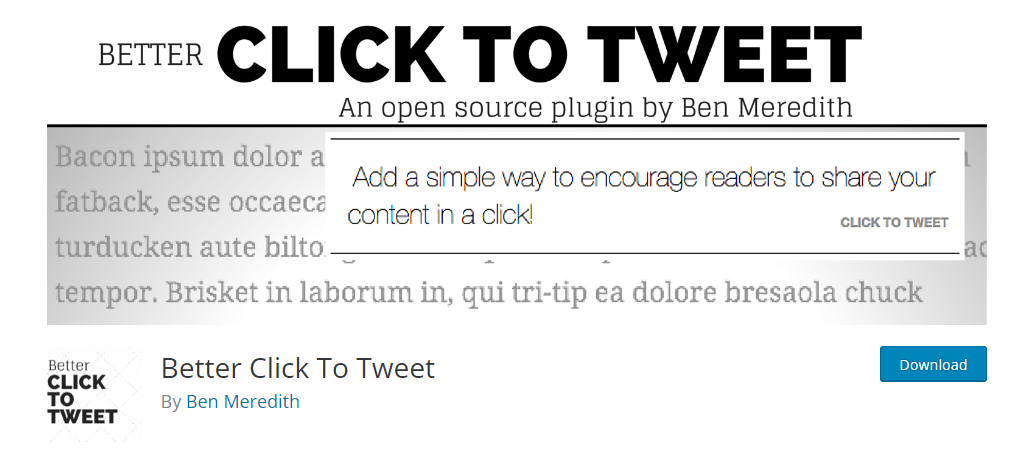 Do you create great content that is worth tweeting? If so, you should install the Better Click To Tweet plugin for WordPress today. With it, you can surround some of your content with a Twitter card and make it easier for visitors to share.
Not only does this help you highlight certain quotes, but it actually looks really nice in a blog post.
How does it work? Well, you just place the quote you want to place in the Twitter card into the block and that's it. There's nothing really fancy about this, but it's incredibly effective at promoting your website.
I would say the best use of this is when dealing with statistics, definitions, or just amazing quotes or jokes. You can also change the style of the quote box by buying the premium add-on.
Benefits of Using Better Click To Tweet
Supports the classic editor by using shortcodes
The tweet includes a link back to your content
It's a great way to highlight content on a post or page
Works really well with deals and sales for eCommerce shops
Supports short links to give you the most room in your tweet
Drawbacks of Better Click to Tweet
Locks style options behind the Pro version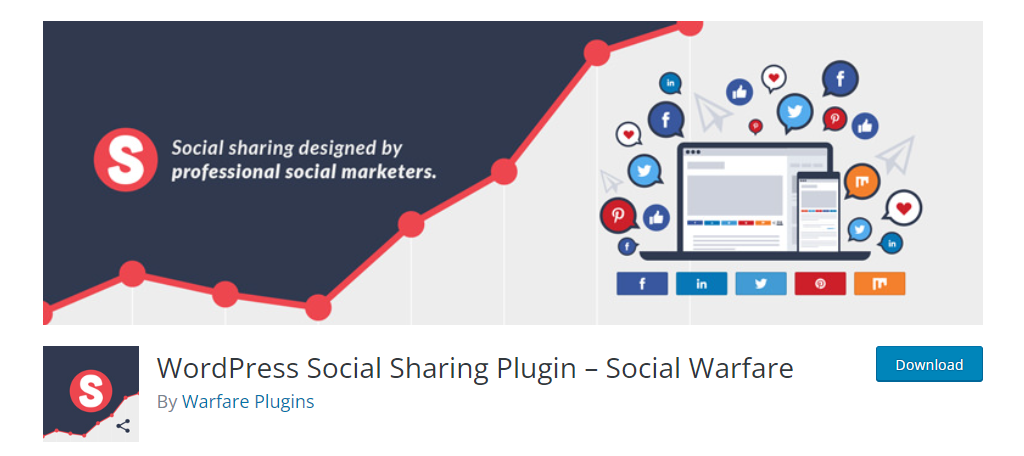 Social media marketing is a warzone, and if you want a chance at winning, you are going to need the Social Warfare plugin. It's a comprehensive lightweight plugin that makes it easy to add share buttons in WordPress.
It offers support for Facebook, Twitter, Pinterest, LinkedIn, and more.
Each of the social icons is customizable in appearance, and you can also choose the layout of where they appear on your posts and pages.
All you'll need to do is place the shortcode in the desired location and you are good to go.
It also has a slew of features for specific platforms. For instance, there is a Click-to-Tweet feature that makes it easy for visitors to share quotes from your website. You can also show the number of times something has been shared by upgrading to the Pro version.
Benefits of Using Social Warfare
Includes a popular posts widget
Image hover pin available for Pinterest users
Display total shares once a minimum number of shares is achieved
Twitter card support
Link shortening available
Drawbacks of Social Warfare
Some platforms like Reddit are locked behind the premium version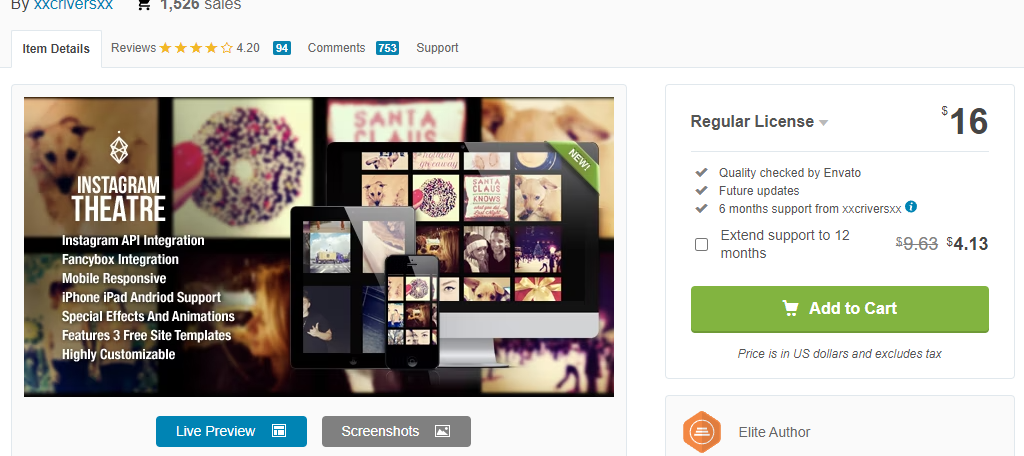 Many influencers may only focus on a single platform. If your platform of choice happens to be Instagram, the Instagram Theatre plugin is the perfect plugin to install today.
Just keep in mind that this is a premium plugin without a free version.
So what does it include?
As you might expect, it allows you to pull images from your Instagram account and place them directly on your WordPress site. However, what makes this tool unique is the level of customization available.
With it, you'll be able to turn your site into a full-screen gallery, utilize a thumbnail grid layout, display photos from Instagram that use a specific tag, and much more. It's the ultimate plugin for everything Instagram.
Benefits of Using Instagram Theatre
Mobile responsive so images always look good
Lightweight design ensures your website doesn't slow down
Display photos based on the location they were taken
Supports multiple Instagram users
Access to a support team to aid you in using the plugin
Drawbacks of Instagram Theatre
There is no free version available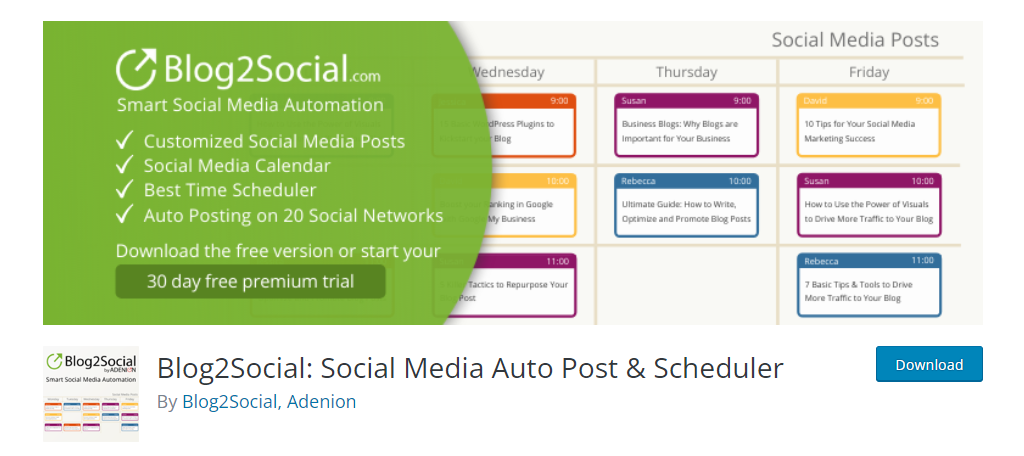 Blog2Social is another excellent social networking plugin that can help automate your workflow in WordPress. It supports a lot of social networks with some of the major ones including Facebook, Twitter, and Instagram.
While the plugin is free, there is a premium version that you can try for 30 days with a free trial.
This plugin allows you to auto-post content on the various social networks that you choose. The options you have available to you depend on which version of the plugin you have.
For instance, free users can post on their Facebook page while premium users also have the option to post to Facebook groups. Overall, the plugin is very simple to use and can really reduce the amount of time you spend managing social media accounts.
Benefits of Using Bog2Social
Repost old posts to help them get views (great for evergreen content)
The social media calendar makes it easy to schedule content
Creates a backlink to help bring traffic to your site
Supports multiple languages
Compatible with WooCommerce
Drawbacks of Blog2Social
Twitter support is locked behind the Pro version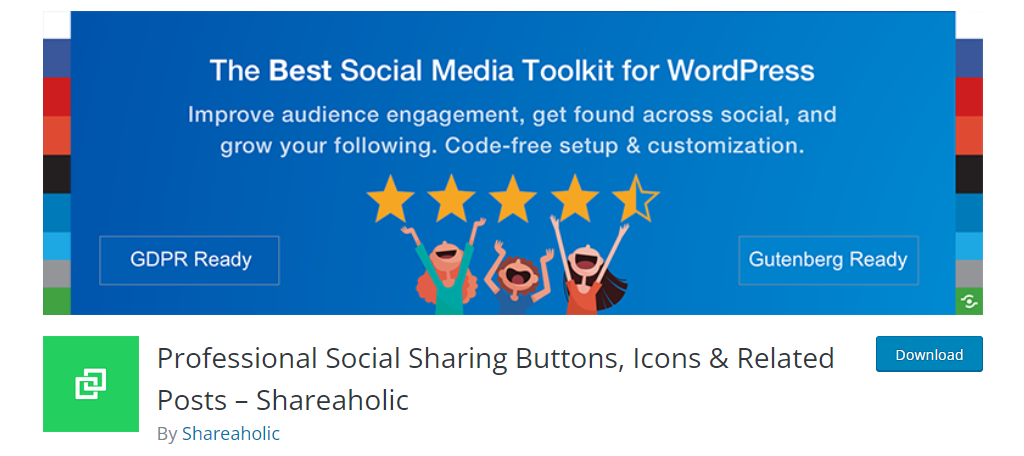 When it comes to growing your audience one of the best WordPress plugins for social media is Shareaholic. However, it goes way past just social media as it includes a host of engagement tools to take advantage of.
These include things like ad monetization, content analytics, displaying related posts, and much more. With that said, let's just focus on the social media aspects.
The plugin supports multiple social networks like Facebook, Twitter, Pinterest, WhatsApp, and much more. This includes dedicated sharing platforms.
You can add share buttons for your favorite medium and even include the number of times it was shared. You can also take advantage of URL shortening tools like Bitly to make your links as friendly as possible on these social venues.
Benefits of Using Shareaholic
Multiple social icon designs to choose from
If your URL changes, you don't have to worry about your share count resetting
Vector share buttons are available
Supports HTML5
Integrates with Google Analytics
Drawbacks of Shareaholic
You'll need to code to disable in-page apps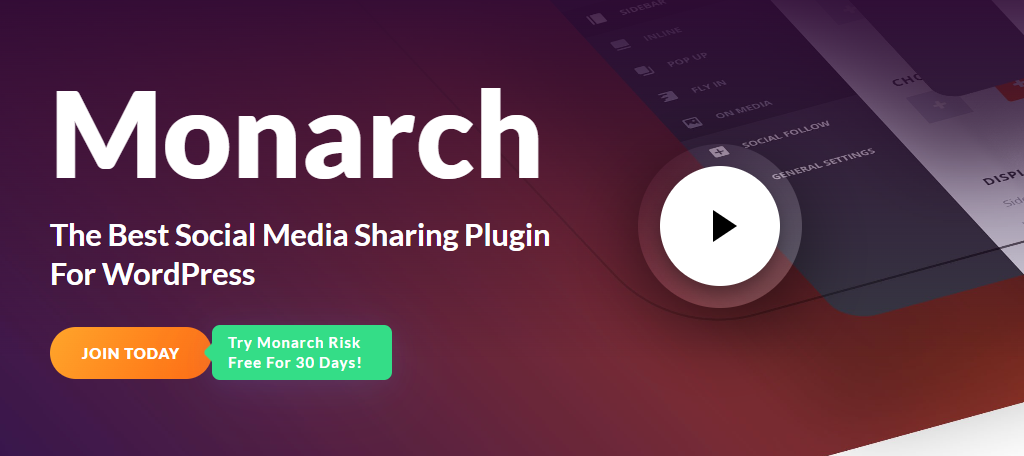 When it comes to social media plugins, you really need to check out the Monarch Social Sharing plugin. This plugin is made by ElegeantThemes, and the design quality really shows.
Of course, this quality isn't free. It is a premium-only plugin but has a 30-day money-back guarantee.
This plugin provides high-quality share buttons that fit into any theme. It supports pop-ups, fly-ins, share buttons for images and video content, and much more. And all of this is available on over 30 social networks.
Everything about the social icons is adjustable. This includes the color, icon placement, number of followers, the ability to just include the icon, and more. It's an extremely robust tool that can benefit any website.
Benefits of Using Monarch Social Sharing
View social statistics on your dashboard at any time
Supports multiple sites with exports and imports
Access to 24/7 customer support
Place these social icons anywhere with a shortcode
Buttons support multiple shapes
Drawbacks of Monarch Social Sharing
The plugin is quite expensive compared to other premium options
When it comes to integrating your WordPress website with your favorite social media platform, ARSocial should be one of the first choices. It's a comprehensive social media plugin that can handle just about anything.
It is a premium plugin, but since the price tag is quite small, it shouldn't scare anyone away.
Users will have access to over 42 social networks and a variety of customizable social share buttons, and all of this is accomplished through a very simple interface. As a result, it's perfect for beginners.
One of the most unique aspects is the social locker feature. This will make it so that visitors must share the content to be able to view it. On one hand, this can help boost conversion. On the other, it could scare visitors away, so be sure to see how visitors respond.
Benefits of Using ARScoial
Supports custom position for share buttons on mobile devices
Get access to analytics to see how each social platform performs
The plugin is optimized for speed
Supports multiple languages
Includes a variety of templates to choose from
Drawbacks of ARSocial
There is no free version of the plugin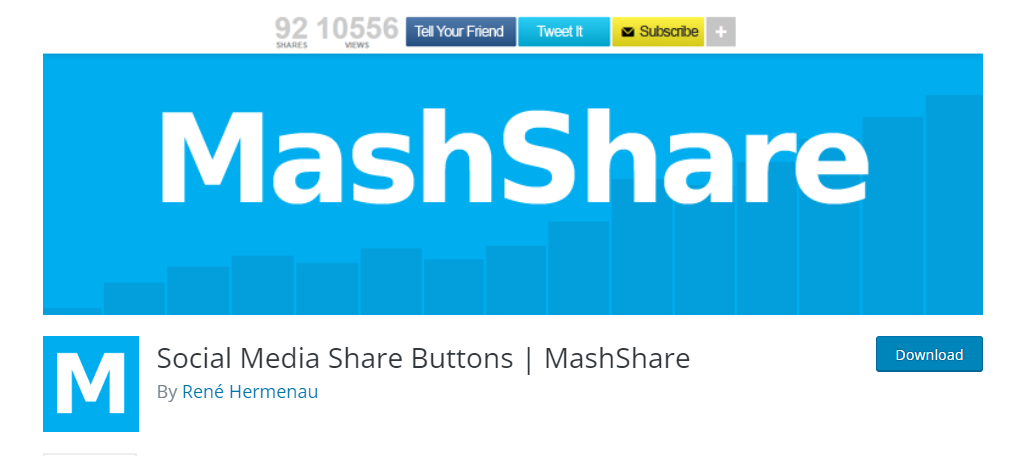 Closing out this list of the social sharing plugins for WordPress is MashShare, but don't let its placement fool you. MashShare is a terrific plugin with high levels of customization available.
MashShare is completely free to use, so there's nothing stopping you from giving it a try.
You'll find the social share buttons highly customizable, short link support to help make your links more attractive, analytics on your dashboard to see how each platform performs, and much more.
You can also take your social media game further by taking advantage of some of the free add-ons this plugin offers. For instance, you can set specific Twitter hashtags for your images to make sharing more effective.
Benefits of Using MashShare
Access to a Most Shared Posts widget
Support AMP to ensure the best performance possible
Swap the colors of share buttons at any time from the settings
Sort your share buttons with a drop-and-drag interface
Supports shortcodes so you can place share buttons anywhere
Drawbacks of MashShare
Sometimes the social share buttons disappear after updating and need to be reset
If you're looking for a floating WordPress element that is responsive and customizable, AddToAny is a good choice. It's one of the most popular social sharing plugins for WordPress and has an exceptionally high rating.
AddToAny uses vector graphics and a universal share button menu. This means visitors can quickly share content with social media, email systems, apps, and a long list of online web systems.
One of the things that makes this plugin stand out is the capacity to integrate with Google Analytics. You can get visitor traffic data any time the button is used even if the shared links have been processed using a link shortener.
If you need something for WooCommerce, this plugin also supports it as well as multilingual and multisite networks.
Benefits of Using AddToAny Share Buttons
Supports all social media networks including new entries like Threads
Create floating share buttons to follow users through a page
Loads your content first to ensure fast speeds
All social icons are responsive and come in a variety of sizes
Supports Google AMP
Drawbacks of AddToAny Share Buttons
Displaying custom social icons can be a bit confusing
Shared Counts is yet another social media plugin for WordPress dedicated to displaying share buttons on your favorite platforms. It has an exceptionally high rating currently and is focused on delivering high performance.
When you consider how the bounce rate of a website vastly increases if the site takes longer than three seconds to load, performance is very important.
Another highlight of Shared Counts is the fact that it tracks values for both HTTP and HTTPS. This means you don't lose the number of shares displayed next to each social media button when you upgrade your site with SSL.
This plugin also comes with several layouts to choose from while protecting email sharing with Google reCAPTCHA support. This helps you pick the perfect look for your website. Overall, it is a great option for displaying social icons in WordPress.
Benefits of Using Shared Counts
Choose to display share buttons before or after the content
Does not use cookies or store users data (GDPR compliant)
Retrieves all share buttons in a single request for peak performance
Display the number of likes, follow, subscribers, and more directly on the button
Choose from a variety of social buttons and icons
Drawbacks of Shared Count
Lacks any floating options that follow the user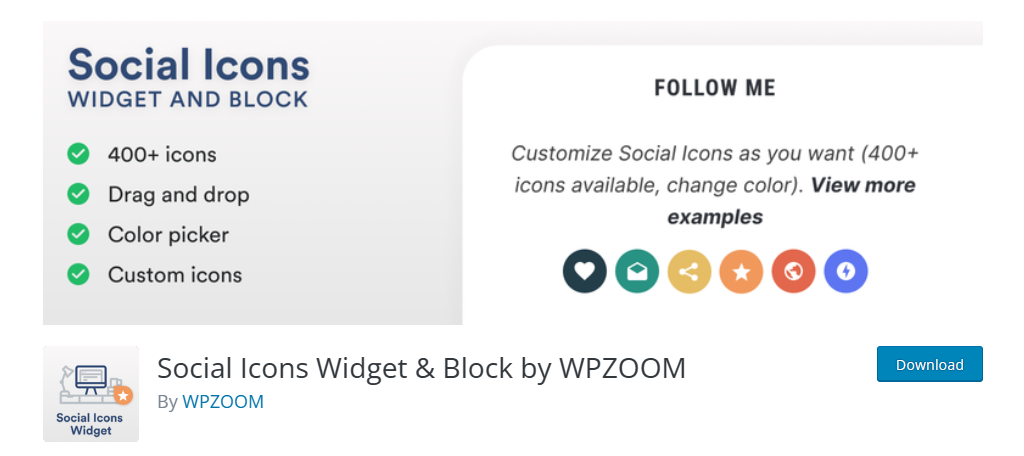 The Social Icons Widget is more of a system to share your social profiles with visitors. Although many themes today come with built-in icons, this plugin has a lot of features that many layouts simply don't have.
In fact, you'll gain access to over 400 icons, so there really is something for everyone.
This tool is ready with over 100 social networks, four sets of icons, a color picker, and a searchable database. If you use WhatsApp, Skype, or Viber, you can easily connect your numbers and profiles so visitors are capable of contacting you directly.
For those who like to be unique, it's not much trouble to change icons to your own designs. This gives your website a sense of individuality and helps it stand out. Overall, it is another one of the best social media plugins for adding social icons to WordPress.
Benefits of Using Social Icons Widget
Use a color picker to change the share button color
Search for icons by keyword
Global options allow you to change every social button color in a single click
Upload your own social icons
Choose from multiple button shapes
Drawbacks of Social Icons Widget
Support options are locked behind the premium version
Easy Social Share Buttons is one of the best premium social media plugins that offers a bit more than just a simple way for users to share their content on sites like Facebook. It comes equipped with everything you'll need to engage your audience.
The plugin supports 50 of the most prominent social hubs while offering a wide range of colorful templates. Variable design positions, animations, and customizable features give you a great deal of control for building something perfect for your site.
One thing that stands out to me about this plugin is the ability to integrate live chat services through Facebook Messenger or Skype. With a click of the mouse, customers can get in touch with you directly from the website.
For those who like data, Easy Social Share Buttons comes with analytical tools to help you build a winning strategy for social sharing.
Benefits of Using Easy Social Share Buttons
Choose from a variety of button shapes and sizes
Create horizontal or vertical icon displays
Includes a pop-up Instagram follow widget
Includes a live chat feature for your site
Display share buttons on WooCommerce products
Drawbacks of Easy Social Share Buttons
No free version is available
ShareThis Share Buttons comes with a variety of ways users can share their posts in WordPress on their favorite social network. You can enable inline content using the default top or bottom placement, using shortcodes, or placing PHP snippets.
As such, it is easily among the best social media plugins for WordPress.
If you want sticky share buttons that follow a user as he or she scrolls, this plugin does that as well. It's also possible to customize the layout so you can ignore sticky buttons on specific posts or pages.
The plugin comes with several options to help you fit it perfectly into your content. For instance, you have access to the alignment of the buttons, size, labels, and whether to show the share count or not.
Benefits of Using ShareThis Share Buttons
Anchor social buttons to the sidebars as visitors scroll
Includes top and bottom margin controls for buttons
Enable or disable sticky share buttons on a post-by-post basis
Includes over 15 language options
Choose from multiple button designs
Drawbacks of ShareThis Share Buttons
Does not support custom icons
FAQs About Social Media Plugins
Is Auto Posting Enough to Build A Social Media Presence?
Auto posting is a powerful tool for helping users keep up with your content releases, however, it is not enough to sustain a social media profile. Users will not be willing to follow an account that simply posts updates and are looking for original content.

That said, it works very well if your entire website is built around news stories. Seeing the latest stories pop up in their Twitter or Facebook feeds can accurately reflect your brand, so in some cases, it may just be enough.
Are Premium Social MediaPlugins Worth It?
There are a lot of social media plugins and they can be broken down into two categories. Free and premium. On paper, premium plugins offer you more features, handle more requests, and give users access to more support, which gives them a big advantage.

While you may be able to get away with using a free social media plugin, the truth is that most of them have limits on the number of requests you can make, thus, they often become unusable as your website grows. As such, most websites will end up purchasing a premium tool.
How Many Social Media Platforms Should I Be On?
As many as you can actively maintain. There are so many platforms that allow you to engage with users in unique ways, and as long as you can actively engage with your audience on that platform, having a presence on it is more than worth it.

With this said, it takes a lot of time to manage social media accounts. If you fail to engage with users, it can actually hurt your brand, thus, just focus on a few platforms and expand when you are comfortable.
Are Social Logins Safe?
Absolutely! Google, Facebook, LinkedIn, and so on are huge platforms that store millions of user's data. A password breach on their end would be a huge deal, thus these companies utilize secure systems to protect user data.

As such, your website can benefit from this by gaining a secure login area that has strong security measures in place. That said, no security system is foolproof, but you won't have to worry if you add one.
How Many Social Icons Should I Display?
One for each of the platforms you are active on. Most websites have a social media account on several platforms, as such, you'll want to actively promote these profiles and social icons are one of the best ways to do it.

If you are worried about the amount of space they take up, you could display the major ones and create a small link that says "View All Of Our Platforms" which could take users to a full list of social profiles.
Is It Worth Showing Off Stats If They Are Not Impressive?
You might be wondering if there is a point to showing off the number of likes you get on Facebook, or the total number of subscribers your YouTube channel has if they are not really impressive. They are definitely worth highlighting.

Even if your numbers are on the lower side, some users may look at them and want to help, thus they give you a subscription, like the content, or whatever it is (assuming they like the content). Not every social media account will have millions of followers, so don't go in with the wrong expectations.
When Should I Start Making Social Media Profiles?
Immediately. In fact, you should have accounts on major platforms like Facebook, Twitter, and Instagram before your website goes live. These accounts are pretty much standard nowadays, and any website worth its salt has a Facebook page to follow.
Start Growing Your Social Media Presence Today
As you can see, there are a lot of amazing social media plugins to choose from on the WordPress platform. Making that choice is hard, but the longer you take, the longer it takes to begin building a presence.
While social media is touted as a fast way to increase traffic, it's more of a relative sense. Truthfully, it is much like SEO where it could take months before you build a sizable following.
However, don't let that discourage you from starting ASAP.
Once your social media accounts grow in size, you are going to find success. You just need to make sure you are delivering high-quality content to your followers. Otherwise, they won't stay as a follower.
What are your favorite social media plugins for WordPress? Do you create original content on your social account?